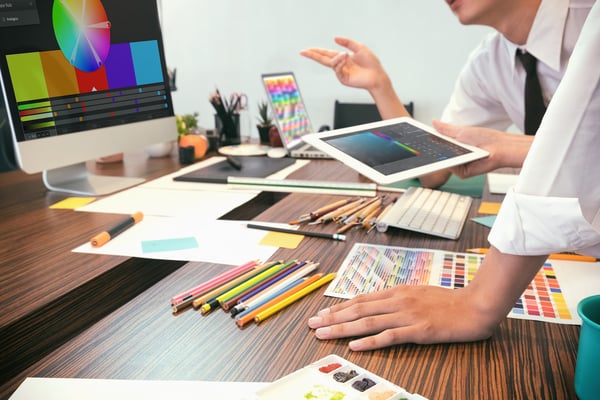 We all want our design ideas to move flawlessly from our computers to the printers and, finally, into our waiting hands. However, it's not always that streamlined.
Coordinating between graphic designers, color management specialists, and print technicians could leave kinks in the process, leading to a less-than-ideal final product.
That's why flexo prepress solutions are important; they're the last line of defense against design errors or proofing problems. Partnering with a company that offers prepress printing services can eliminate undue miscommunications and ensure you deliver high-quality prints to your customers again and again.


What Are Flexo Prepress Solutions?
So, what exactly happens when you send your design off to prepress printing services? There are a few factors the prepress team will look at, including:
Color management

Texturing

Stepping

Proofing

Graphic Design

Consultation


Color Management
Color management, as you might guess, is about all things color. It involves reproducing established color vectors for optimal printing as well as hitting established spot color tonal values (SCTV). This step is typically achieved through inline cameras and spectrophotometers.
Another step of this process involves checking color gamut to ensure the desired color range is achievable with a set up.
All in all, the color management step is crucial in guaranteeing that the colors you include in the design are the colors you see in the final print.


Texturing
Next, it's time to tweak the textures. Depending on the design, sometimes the final print will have multiple textures. Will the text be embossed? Will certain colors be glossy or matte? Are there other textures, like rippled or grainy effects?
All of these textures will affect the stepping phase of prepress printing services, which determines how to fit the print on the image carrier.


Stepping
Stepping and distorting is the process of finding the right way to fit the design onto the image carrier. This process can sometimes be extensive, but when it's done right, it'll ensure that the print is proportionate to the original design.


Proofing
For the customer, this is the most important step of the process.
Getting a proof of a print can really help technicians understand any parts of the design that need altered -- sometimes things look different on a screen than they do in real life. Flexo prepress services are all about fixing any errors before hundreds of thousands of prints are made.


Graphic Design
Ideally, you'll already have a mockup of your design when you're talking to flexo printers. However, some packaging prepress services want to take a second look at it to make sure everything is optimized.
Most prepress teams have a skilled graphic designer, and some even offer custom designing services, taking care of the process from initial idea to final mock-up.


Consultation
This part isn't really a clear and defined step so much as it is an overarching service. An expert flexo prepress team will offer its advice and years of experience at every part of the process.
Whether it's an initial consultation to discuss logistics, or a post-print recap, having an open line of communication with your prepress printing service providers is the best way to iron out any kinks.


The Advantages of Flexo Prepress Solutions
The flexo printing process already offers a long list of advantages. By adding prepress services into the mix, you can get even more value. Partnering with print professionals can:
Speed up the printing process

Ensure the best possible print

Provide valuable design advice

Avoid costly printing errors
You don't need to look to outsiders for the best packaging prepress services! There are intensive training programs for press operators and designers to become experts at prepress printing services.


Finding the Best Flexo Printing Partner
While flexo printing is great for printing on a variety of substrates with different kinds of inks, prepress printing services can amplify those benefits.
To get the best possible flexo printing experience, consider partnering with a flexo printer that has the expertise to guide you on color management, stepping, and all related services.
Want to learn more about how flexo can fulfill all your printing needs? Take a look at our ebook about flexo and other printing methods.