Modern-day flexography has come a long way since its invention some 130 years ago. From the invention of the first rotary press using rubber plates to print to the commercialization of UV pigments in the 1990s, this two-part series covers the origins of Flexo printing as well as its growth in popularity through the present day.
Part One: The Birth of Flexographic Printing through the 1950s, covered flexographic printing from its conception through throughout the 1960s. This part, (part two) Flexography Through the '60s, '70s, '80s, and '90s, will cover new products and applications developed through the 1960s, 70's, 80's, and 90's, and the impact that the Flexographic Technical Association (FTA) had on the flexo industry.
Flexo Chronicles: A History of Flexography | Flexographic Printing From The 1960s Through Present Day
Flexographic Printing In the 60s and 70s
Improvements to the flexographic printing industry in the 60s and 70s focused heavily on press design and improved quality. Throughout the early 60s, press design was updated to include higher screen counts for press operators to get better image resolution than previously capable.
Screen ruling kept increasing until it stabilized around 120 lines per inch, a resolution that would allow printers to get a better gray balance and correct halftones.
New inks were also developed for corrugated printing, a market in which flexography demonstrated it could be used to print with better legibility, less deflection, and lower production costs due to less material waste. These new inks were based on acrylics, a synthetic resin. They were faster in drying times, harder, and showed fewer variations in viscosity compared to those based on shellac, which varied from batch to batch.
During the early 1970s major changes in ink technology were based on the discovery and use of new solvents such as urethanes, acrylates, polyamides, and polyesters.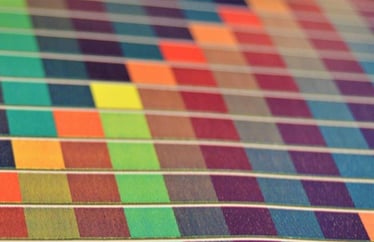 With flexography becoming an ever-growing industry, the FTA and Rochester Institute of Technology (RIT), joined together in 1961 to produce the first college-based course in flexographic printing.
The course, which had to be taken by all first-year students, included lessons on both the theory and practice of flexography and students had the opportunity to get hands-on with flexo presses. The creation of this program began educating the innovators that would revolutionize the flexographic industry and is considered to be a major contributing factor to the industry.
Around the same time that RIT was starting to teach flexo printing, narrow-web press design for label printing was changing. These presses used rotary dies to cut the labels which, until the end of the 1950s, were typically made of soft metals, making them vulnerable to wear and tear.
Throughout the 1960s, dies began to be made using hardened steel which eliminated the dulling problems, and chrome plate dies were introduced in 1968. This new development helped expand die life by over a thousand percent.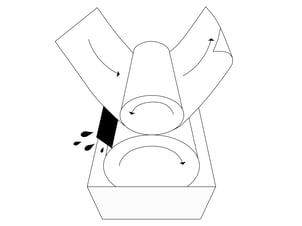 In 1964, the design of flexographic presses would change forever when the rubber roll that helped meter the ink was replaced by the doctor's blade.
Up until the 1960s, flexography was considered essentially a letterpress process characterized by extremely fast-drying, low viscosity inks that relied on solvent evaporation for their effect. The original flexographic, or aniline inks were "a solution of shellac is denatured alcohol to which [was] added alcohol-soluble basic dyes for coloring.' By the 1960s, however, three different types of inks existed:
Alcohol-soluble

Water-soluble

Co-solvent
Water-based inks were very attractive because they freed the industry from dependence on organic solvents, were nonflammable, and had very little odor to them.
By the end of the sixties, the first four-color narrow web presses were on the market ready for process-color printing. But it was not until 1972 when DuPont introduced Flexographic photopolymer plates, called Cyrel plates, that created the ability for process-color labels to be printed. ``
Shortly before DuPont came with the Cyrel plates, Uniroyal came out with their own photopolymer plate called Flex Lite, but DuPont flooded the market with Cyrel plates and eventually, Uniroyal gave up on their project.
These new plates were composed of a layer of photopolymer and metal support. The photosensitive plastic hardens when it is exposed to ultraviolet light. To create plates for printing, a high contrast photographic negative is placed emulsion-side down in contact with the plate. Then it is exposed to UV light and the unexposed areas, which are areas not hardened by the light, are washed out with an alkaline solution.
Flexographic Printing In the 2000s
By the year 2000, the flexographic printing industry had become a dominant force in the packaging industry. Key industry players had begun purchasing print houses and larger investments in flexo operations were occurring.
As the quality of flexographic printing got increasingly better, a shift within the printing industry led packaging printers away from the then-gold standard of printing, gravure, over to flexography. Nowadays, the qualities of both flexography and gravure printing are considered to be at the same level.
According to the FTA, the advancements in flexography that have been happening throughout the 2000s, '10s, and now '20s have been impressive and include improvements to:
Aniloxes: The anilox line screenings are finer and the cell structure is no longer in the traditional hexagonal form
Inks: The inks dry remarkably slower. Also, the pigmentation and the ink transfer have been improved significantly. In high-quality process printing, you hardly ever get dot bridging due to ink drying issues
Repro: There are several new repro tools for improving highlights and shadows, and Expanded Gamut (EG) has finally broken through
Plate exposure: There are plenty of new solutions, and LED technology introduces new improvement opportunities
Plates: The plate exposure and enhanced ink transfer, together with the surface structures and dot solutions for highlights, have enabled significant improvements. The flat-top dot has had an enormous effect on improving quality
Tapes: This sector has not yet seen as many improvements and changes as other areas, but the solution of replacing cushion foam tape is perhaps the most interesting development for central impression (CI) drum machines
Machines: Digitalization, speed, and press stability (the hardest challenge) have improved significantly, which has influenced quality and productivity
As flexographic printing continues to modernize throughout the 21st century, major investments in packaging have occurred, while eco-friendly and sustainable materials have grown in popularity. Check back to this article for updates as developments continue in the flexographic printing industry.
---
The Luminite Impact:
In the 1960's Luminite added acid-etched and chrome-plated magnesium cylinders to their product lineups. These options provided finer designs with much quicker turnaround times to the same markets.
In the early 1970's it became apparent to Luminite that the printing process in which these metal cylinders were utilized was being supplemented by other processes, and that the company needed to acquire new state-of-the-art technology and expand its product line.
In the mid-1970s, Luminite became the first manufacturer in North America to produce and sell continuous laser-engraved rubber-covered cylinders both to wallcovering printers and to an increasing number and variety of other customers in the flexographic printing industry. As a result of this new product and market, sales volume and employment from 1976 to 1980 nearly doubled.
In 1996, Luminite was issued a patent for improving the performance of nickel sleeves by coating the outer surface and ends with a high durometer elastomer, known as NickeLok (Patent # 5,577,443).
In 1997, Luminite became one of the first laser engravers in North America to convert to digital direct laser engraving.
On May 10, 2010, Luminite suffered a great loss when its historical office building was destroyed by a fire. Over the next year and a half Luminite designed and built a brand new 45,000-square-foot facility in Bradford, PA.
In October of 2011, Luminite moved the entire company from Salamanca, NY to their new facility. This marked the first time in 36 years that Luminite's manufacturing and office personnel would be united under one roof.
In September of 2012, Luminite was granted a patent for a revolutionary new "air sleeve" which is fittingly named Patented Load-N-Lok. Unlike traditional sleeves that require an air mandrel, the new air sleeve can be mounted and positioned anywhere on a plain "airless" mandrel saving time and money. Luminite is the oldest and most recognized manufacturer of continuous laser engraved printing cylinders in North America.

Have questions about our direct laser engraving or a quality control question? Schedule a print consultation below and one of our experts will reach out.