Editor's Note: This blog was originally published on September 1st, 2017 but was updated on March 4th, 2019 to reflect modern information and industry changes.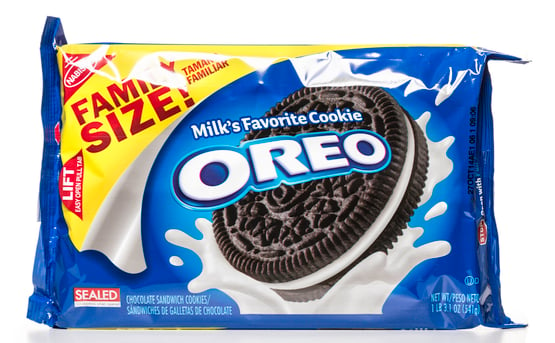 Adhesive printing has many applications. You'll often find examples sitting on the shelves of your local supermarket or drugstore.
You buy a bottle of pain reliever. You peel back its sticky label to read the instructions, drug facts, and warnings. Another time you peel the paper coating to a foil blister pack of an over-the-counter allergy medication.
7 Common Applications for Adhesive Printing
The label, paper coating, and the foil lidding? That's right, they're all bonded to the packaging with adhesive. Some other common applications for adhesive printing include:
Product labels (sometimes multiple, folding layers)

Warning labels

Shipping labels

Price/barcode labels

Stamps

Tape backing

Resealable packaging (think

Oreo

cookies)

And more
Those adhesive elements are rolled, or printed, to label and securely air seal many consumer products we use daily, especially in the medical and pharmaceutical professions. You'll need an experienced flexographic printing plate and sleeve manufacturer for products that best suit your choices of adhesive, substrate, and other specs.
What Are You Trying To Accomplish?
First, determine your application. What will a successful adhesive print entail for the job it's supposed to do?
Will you need spaces where adhesive is selectively and repetitively not applied to the substrate?

Will one element be peeled off and affixed to another?

Is the adhesive intended to be permanent, temporary, or somewhere in between?

Do you require hot- or cold-processed adhesive, water-based adhesive, or silicone-release coating?
Adhesives react differently with different types of substrates. Some are best to stick labels permanently to corrugated packaging. Others temporarily bond medical labels to be peeled and reapplied to patient files. The applications are nearly limitless.
Environment Impacts Permanent Adhesion
Permanent adhesive power could fade with certain variable conditions:
Temperature

Humidity

Condensation

Light exposure
Think ahead. Analyze and understand the purpose.
If the product will be stored in a freezer, how will the adhesive hold up for extended periods under those extreme conditions?

Will it need to be more powerful and long lasting to withstand outdoor elements?

Will humidity or condensation compromise the bond?
An adhesive bonding warning label to a gas-powered lawnmower, for example, would need to hold strong in rain, dry spells, heat, and cold for perhaps 10 years or more.
You may need to lay the adhesive in specific continuous patterns to fulfill the job. If your printing sleeve or plate isn't crafted to specifications, it may not spread enough (or any) adhesive to parts of the substrate, causing it to eventually lift and come loose.
Jobs When Temporary Adhesion is Best
Less adhesive power is sometimes necessary. It may be important for the end user to remove a label. If so, is removing it easy? Would it be unsightly or inconvenient for adhesive residue or full pieces of the label to remain?
Products for which less adhesive power is best include:
Personal tech device labels

Household appliances labels

Fresh grocery produce stickers

Resealable food packaging

Tamper-proof seals

Tape

And more
No matter the application, choose an experienced flexographic printing supplies manufacturer with the right technology to create engraved sleeves, cylinders, and plates to lay continuous, seamless adhesive.