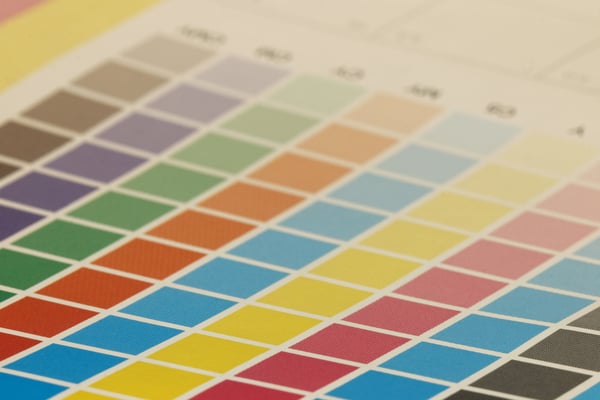 If you're reading this article, you're probably already familiar with flexographic printing, printing that uses cylinders and elastomer sleeves to print on a variety of substrates at high speeds, while achieving high quality products.
But did you know there's a digital option for flexographic printing that uses sensors and automation to improve consistency and color accuracy, precisely reproducing any unique Pantone color from the extended gamut on every print run?
What Is Digital Flexo Printing?
Digital flexo printing automates the entire process of flexographic printing to help reduce lead time, cut machine stops, improve accuracy, and increase consistency.
Using digital sensors to automatically mix and measure colors while also adjusting the intake and outtake of substrate, registration, and pressure, digital flexo printing creates reproducible print jobs while reducing wasted ink, unused substrate, and machine time.
Digital flexo commonly utilizes a seven-color gamut that layers color to achieve the correct hue. Thanks to this feature, no colors have to be mixed. The ink and anilox rolls can often be left in press between print jobs, saving time and material.
Digital flexo printing also allows printers to queue multiple print jobs at a time. As the first print job finishes, the second job automatically runs without the need to stop the machine.
Additionally, some flexographic printers have opted to create hybrid analog-digital flexo systems by installing digital print stations on their existing analog printing presses.
What Components Do You Need for Digital Flexo Printing?
The initial investment into new equipment can be a deterrent for some printers, causing many flexographic printers to add retrofit digital systems to their existing presses. This easily allows printers to expand printing capabilities while using their existing equipment.
With CMYK and OGV color printing capabilities, existing flexographic printers can get the best of both worlds with the ability to run small print jobs using digital printing and their existing presses.
To outfit a hybrid analog-digital press, printers will need:
Retrofitted digital system
Anilox rolls that accommodate digital coatings
Digital coating tint sleeves
Extended gamut inkjet ink
CMYK toner
Digital hybrid cleaning supplies designed to support the longevity and accuracy of hybrid systems
Getting Started with Digital Flexo Printing
Digital flexographic printing will allow you to expand to new markets with limitless printing possibilities for short and long run prints.
Whether you're looking to upgrade your conventional flexographic printing capabilities with digital flexographic printing, or outfit your digital press with flexographic components -- Luminite has expert advice, ongoing support, and equipment/ supplies.
Luminite has been providing printing solutions since 1926, and continues to evolve with modern technology and changes in the printing industry. Using our in-the-round printing solution, our printing components offer printers and businesses seamless, accurate printing at high speeds. To learn more, contact Luminite today.