When thinking about the various components involved in making a final flexo printed product, one of the most important elements to thoroughly consider is your image carrier selection.
Flexographic Printing Image Carrier Selection: Elastomer Sleeves vs Photopolymer Plates
One of the frequently asked questions in the flexo printing world is "What image carrier is best for me?" The truth is, there is no easy answer.
The best, or ideal, image carrier largely depends on several factors.
We've outlined the key considerations for choosing between two of the most popular image carriers, elastomer sleeves, and photopolymer plates, to help explain the factors you should be considering.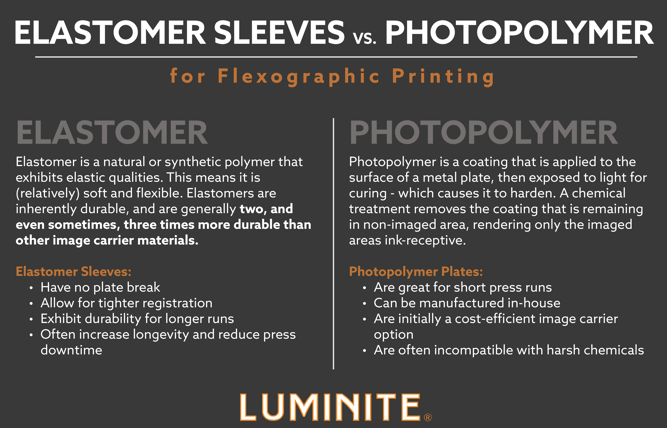 It's important to keep in mind that there are other flexo image carriers to choose from. Including:
Elastomer Sleeves

Elastomer plates

Photopolymer sleeves
The Choice: Elastomer Blend vs. Photopolymer
The elastomer blend vs. photopolymer decision involves many factors, as each technology has its strengths, but let's start at the beginning:

What is Elastomer?
Elastomer is a natural or synthetic polymer that exhibits elastic qualities. This means it is (relatively) soft and flexible.
Elastomers are inherently durable, and are generally two, and even sometimes, three times more durable than other image carrier materials. Various elastomer compounds may also exhibit a superior resistance to harsh chemicals.
Since elastomer sleeves have no sticky back, printers do not have to worry about the adhesive melting and their image carrier slipping around during printing due to harsh, solvent-based inks. Additionally, various elastomer sleeves are not prone to swelling when used with solvent-based inks -- unlike photopolymer materials.
BENEFITS OF USING Elastomer
In general, printing elastomers are tough substances able to be formed into seamless cylinders and imaged by direct laser ablation. Many additional specialized properties are available with different blends. Elastomer's high strength, seamless manufacture, and wide range of properties make it an ideal choice for jobs involving:
Long runs

Bright color

Specialty or adhesive inks

High accuracy

Abrasive substrates

Large format wide web designs

Varying repeats

Embossing

Tight registration

High temperature

High solvents

Conductivity

Foil stamping

Lamination
Elastomer also has some limitations. Most notably, some ink and substrate combinations make it difficult to produce very light vignettes, and there can be a learning curve for people used to printing with photopolymer.


What is Photopolymer?
Photopolymer is a resin that changes properties when exposed to light. It's a coating that is applied to the surface of a metal plate, then exposed to light for curing -- which causes it to harden.
It is imaged by the coating hardening in imaged areas, and remaining soluble in non-image areas. After it has been cured, a chemical treatment removes the coating that is remaining in non-imaged areas, rendering only the imaged areas ink-receptive.
Benefits and weaknesses of using Photopolymer
Photopolymer refers to a class of materials that change their solubility properties through exposure to ultraviolet light. Printing photopolymers are manufactured as a flat plate and imaged through a UV light exposure-washout process. Plates can be adhered to a printing sleeve permanently during the manufacturing process or can be mounted by use of a sticky back at press. Photopolymer is often a good choice for work involving:
Quick turnaround

Many design changes

Short one-time runs

Very light vignettes
Photopolymer plates also have some weaknesses which are not shared by elastomers.
These include:
Swelling or premature wear from aggressive inks

Plate lift

Distorted images

Seams or breaks in image

Ease of damage during mounting


Why Choose Elastomer Over Photopolymer?
Elastomer Blends Achieve Efficiency
Efficiency in printing comes down to getting excellent product out, at the lowest cost. A lot of expenses eat into this.
Elastomer blend sleeves save time and money on setup, as they come press ready. No precision plate alignment or mounting is required. Once on press elastomers are very durable and long-lasting. Typically, several plate changes can be eliminated maximizing press uptime.
Also due to their in-the-round, precision balanced construction, elastomer sleeves can spin at extremely high speed maximizing productivity, and profits throughout every run.
Elastomer Blends Boost Quality
Elastomer is an outstanding choice for many of the demanding quality requirements of modern printing. A wide range of specially designed materials provides solutions for maximum ink transfer with any ink-substrate combination, guaranteeing highly saturated colors and crisp, halo-free fine type and lines. Halftone dots are always flat topped for maximum accuracy and definition.
In-the-round construction also insures that elements are always precisely where you want them, and never crooked or distorted. These physical features combined with super fine direct laser imaging makes elastomer the ideal choice for the most exacting customer requirements.
The Choice: Elastomer Blend vs. Photopolymer
Here are some additional key points about elastomer and photopolymer.
Elastomer:
Directly imaged

Comes in many materials and surface tension ranges (

here

are specific examples)

Compatible with a large variety of inks and substrates

Exceptional ink transfer

Good for continuous designs like wallpapers, gift wraps, food wraps, table covers, and bag or pouch items

Works well for varnishes and coatings

Line weights down to .001"

Good for parts of designs, such as backgrounds with drop out windows

Best for long-running designs and repeat design printing

Varying design repeats
Photopolymer:
Design patterns with non-print areas for seams

Off the shelf commodity provides fast turn around

Produced in house by many printers

Good for parts of designs, such as ingredients that may change often

Best for short runs and one-time print orders

Good for light vignettes and process color
Find a good sleeve, cylinder, and plate manufacturer that'll work with you to identify the ideal materials for final products, graphic, physical, and chemical requirements.
Editor's Note: This blog post was originally published in July of 2017, and was republished in January of 2023 to reflect updated insight and information.