It's no secret that large-scale printing operations have been popular for centuries.
But would it surprise you to learn that integral pieces of the printing processes were long supplied by tire companies?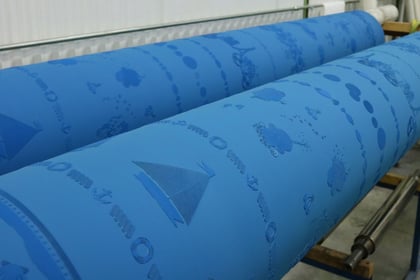 The first flexo printing operations utilized molded rubber plates to create their version of current image carriers. Before the popularity of flexo printing exploded (some four decades ago), print houses relied on rubber compounds from tire manufacturers to create these molded rubber plates.
As the popularity of flexographic printing grew, new manufacturers began developing specialized compounds specifically designed for printing. Over time, these same companies developed extrudable compounds, allowing for the entire cylinder or sleeve to be covered directly.
Current day, flexo operations can utilize elastomer sleeves, photopolymer plates, or both to create their finished products. And while some print houses and manufacturers classify elastomer sleeves as "yesterday's technology" -- the research and technology behind elastomer sleeves are much more advanced and comprehensive than photopolymer, and will result in better quality prints.
Elastomer vs Photopolymer: Understanding the Difference
Before we dive into the capabilities and benefits of elastomer-blend sleeves vs photopolymer plates, it's important to have a basic understanding of what each is.

An elastomer is a natural or synthetic polymer that exhibits elastic qualities. This means it is (relatively) soft and flexible.
A photopolymer is a resin material that changes properties when exposed to light. Typically, a photopolymer coating is applied to the surface of a metal plate, then exposed to light for curing, which causes it to harden.
A photopolymer is "imaged" when light is applied to the "imaged areas", effectively hardening the resin. Once the imaged areas have cured, a specialized chemical treatment removes the coating in the non-imaged areas, rendering only the imaged areas ink receptive.
There are a few important differences between elastomer-blend sleeves and photopolymer plates, the first being durability. Elastomer sleeves are generally two, even sometimes three times more durable than other image carrier materials (including photopolymer).
Compared to photopolymers plates, sleeves can be produced using corrosion-resistance elastomer blends that hold up to aggressive inks (such as those that contain a high quantity of acetate or that use unique solvents).
While there are benefits of using photopolymer in the construct of your image carrier (quick manufacturing time, very light vignettes), the benefits of integrating elastomer-blend image carriers are far superior and include:
Long runs
Bright color
Specialty or adhesive inks
High accuracy
Abrasive substrates
Large format wide web designs
Varying repeats
Embossing
Tight registration
High temperature
High solvents
Conductivity
Foil stamping
Lamination
Quicker registration
Minimize press changeover by eliminating plate mounting time
Higher press speeds by minimizing plate bounce and eliminating plate lift.
Elastomer vs Photopolymer | Why Luminite Chooses Elastomer
When it comes to flexo printing operations, Luminite is dedicated to making durable, yet sustainable products.
In general, elastomers are more durable than photopolymers in terms of:
abrasion resistance
heat resistance
and the ability to stand up to solvent inks
Thanks to their strength and durability, elastomers generally wear better and provide a longer run life than photopolymers. The longer production life eliminates the need to purchase more plates for long runs and repeated jobs.
Elastomer-covered image carriers are considered more environmentally friendly because there is no washout waste and they can be cleaned post engraving with simple soap and water. Photopolymer plates and sleeves on the other hand require an extensive processing sequence including:
UV back expose,
Mask ablation,
UV image exposes,
Washing stage,
Drying stage,
UV final exposure
These processes take a considerable amount of time and add variables at each stage. Elastomer-covered image carriers are direct laser engraved, removing the variable of the UV light exposure with photopolymer plates.
For application-specific jobs, elastomers can be ordered in a wider variety of types and durometers enabling them to be fine-tuned or chosen for the customer's specific application.
Elastomer-covered image carriers also have a "textured" surface compared to photopolymers allowing for more surface area for the ink to collect and thereby applying a slightly thicker ink film. Elastomer covered sleeves and cylinders have also always provided a true "flat-top dot"*.


---
*Flexo 101 Tip: Defining Flat-Top Dot:
A flat-top dot has a defined surface which leads to less variability in dot gain based on pressure and increased benefits for solid, dense ink areas and reverses printing projects -- especially for printing jobs involving flexible or corrugated substrates.
---
As one of the most trusted image carrier manufacturers in the flexographic printing industry, Luminite has invested heavily into elastomer technology and actively stocks over 25 elastomer blends with a wide range of types and durometers*.
---
*Flexo 101 Tip: Defining Durometer:
A durometer is a measurement of the hardness of polymers, elastomers, and rubbers. The hardness of a particular material is measured on a Shore A durometer scale of 0-100.
At Luminite, we offer elastomer compounds that range from 38 to 97 durometers.
---
All of Luminite's compounds are proprietary to Luminite and tested to determine:
Various solvent resistance
Wear resistance
Surface Tension
Line Strength
Ozone Resistance
Resilience
Heat Resistance
In general, elastomers will provide superior run life compared to photopolymers and can be revulcanized (reused) as long as an uncommon issue (such as cracks, delamination, or warping) doesn't occur.
Want to know more about elastomer blends? Check out these blogs!
Elastomer vs Photopolymer | Choosing the Right Elastomer-Blend
Different applications call for different types of compounds. For instance, printing with UV or inks with aggressive solvent will require a solvent-resistant compound, whereas printing on a coarse or non-woven substrate may require a tougher compound (such as Nitrile).
Adhesive and varnish applications may require a compound with release characteristics such as silicone. Heated cylinders may also require heat-resistant compounds.
It's clear that several considerations need to be made when it comes time to purchase an image carrier. For the success and longevity of your print job, it's imperative to work with an advanced manufacturer that offers specialized blends for specialized jobs. Here at Luminite, we work closely with our customers to determine the best compound for their applications.
Have questions on how our proprietary blends could improve your next printing job? Contact us today or schedule a print consultation below to ensure you're getting the best support and quality for your image carrier: