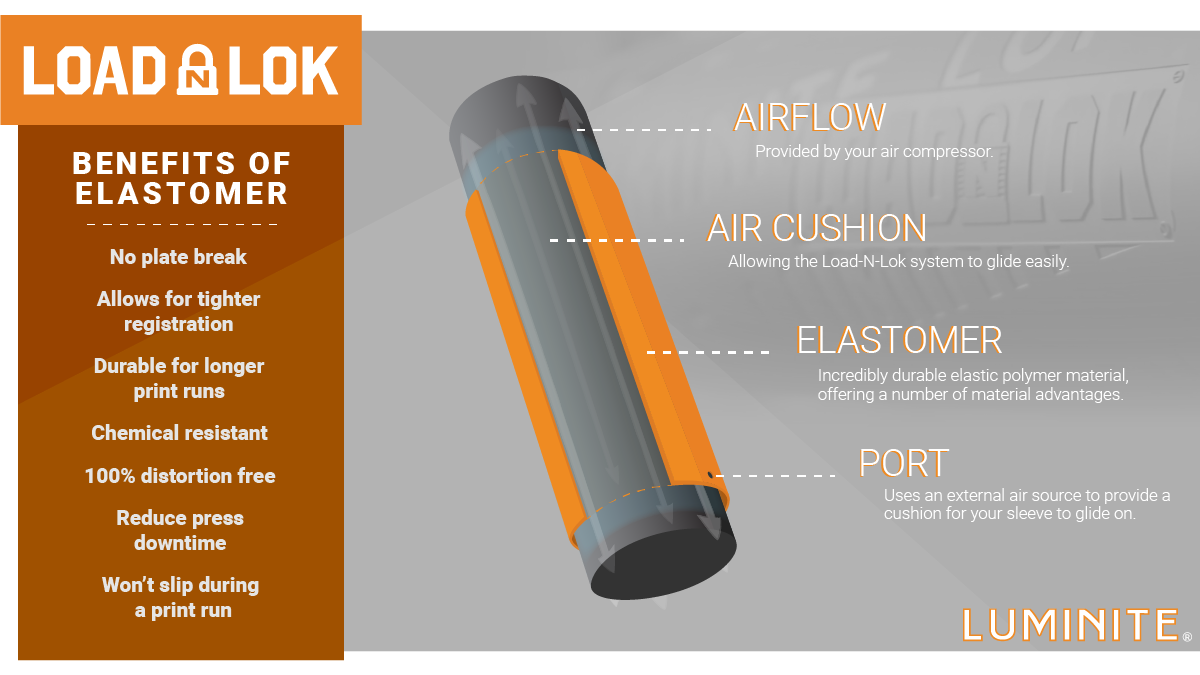 For those of us in the flexographic printing business, we know that changing plates can be a time-consuming process and maintenance is often expensive. We wanted to make a product that cut down on preparation time, increased productivity, and decreased waste.
With our patented Load-N-Lok technology, we were able to achieve those things and more! Here is a breakdown of how our air sleeve technology works.
Using Elastomer Sleeve Technology:
Elastomer, an elastic polymer material, is great for flexo printing. Not only is it incredibly durable, elastomer offers a number of advantages specific to the flexographic industry.
Elastomer sleeves, among other things:
Have no plate break
Allow for tighter registration
Durable for longer print runs
Are chemical resistant
Are 100% distortion free
Reduce press downtime
Do not slip during a print run
The Load-N-Lok technology takes advantage of the benefits of elastomer sleeves by offering an even faster way to get your presses rolling.
Preparing Load-N-Lok Sleeves for Printing
One of the primary features of Load-N-Lok is flexibility. Air lock sleeves can be mounted on multiple different presses if they have the same BCD Mount Base. Load-N-Lok also eliminates the need for an air-assisted mandrel.
Load-n-Lok sleeves that are 2.000" longer than the print width can be mounted on the Mount Base, and you can also mount sleeve lengths as short as 6.000".
All you have to do to mount Load-N-Lok sleeves is insert an air compressor nozzle into the air feed at the lead sleeve edge to expand the sleeve and push it onto the roller. When the nozzle is removed, the sleeve will lock to the roller and remain stationary.
Load-N-Lok in a Nutshell
If you're running a long or continuous print, Load-N-Lok air sleeves offer a durable and quick option for flexographic printing.
Photopolymer plates are relatively cost efficient and can be manufactured in house, but are not ideal for longer print runs. They create a lot of waste and often affect the image after a certain amount of time.
By pairing elastomer sleeves with Load-N-Lok technology, we were able to create a fast, easy way to set up your presses without the waste or the frustration of other in-the-round printing methods.
If you're interested in learning more about how Load-N-Lok can improve your print processes, utilize the button below to get in touch with a member of our team today.