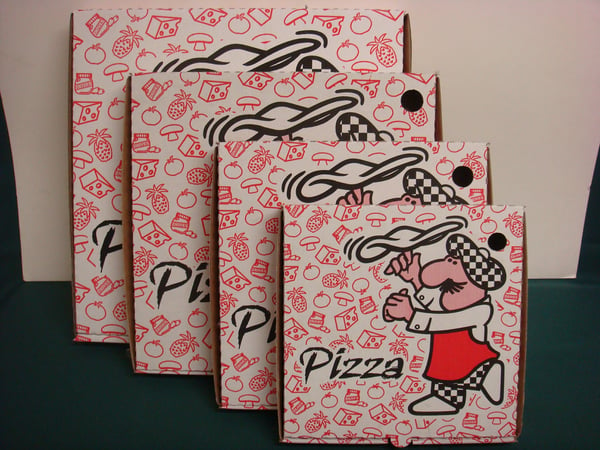 A variety of consumer products are packed into corrugated containers for shipping. To reduce costs, many companies ship products in shelf-ready packaging.
The demand for shelf-ready shipping packages created the need for printing directly onto corrugated materials to create brand-specific colors, eye-catching graphics, and clean text to grab consumer attention.
Printing on corrugated substrates, however, presents several challenges. The material's lightweight construction is ideal for reducing freight, but barely tolerates the pressure of a printing press. In addition, the corrugated medium forms ridges beneath the linerboard, creating an unlevel printing surface.
Technological advances in printing materials, mediums and substrates have revolutionized the way we now print on corrugated materials. Businesses today can print brilliant graphics directly onto corrugated materials by pairing the right substrate, ink and image carriers with the right printing process.
ICYMI: We have a complete guide to Flexo Printing on Corrugated!
Four Options for Printing on Corrugated Substrates
1. Offset Lithography (Litho Lamination)
Not actually a direct printing method, lithography pre-prints images onto linerboard, which is then attached to the corrugated substrate. While this is an option for all printing methods listed, this is the only way to print on corrugated with litho, which guarantees an additional step in production.
This method easily accommodates foil stamping, spot gloss, embossing, and other embellishments and renders high-resolution images.
Lithography's nearly limitless options come at a premium. The set up, added embellishments, and pre-printing method all increase costs.
2. Screen Printing
During the screen printing process, a squeegee forces ink through a screen, depositing color onto the substrate. Stencils (masks) shield negative space from ink and allow ink to pass through onto colored areas.
A stencil is made for each separate color, and each color is applied separately. It is a time consuming process that is often done by hand.
It produces richly colored images, but it is most suitable for small volume prints.
3. Digital Printing
Digital printing presses function similarly to the printers we use at home. Unlike the other printing methods, digital printing does not require the creation of printing plates because a digital press uses electronic files to print images.
Digital printing is capable of rendering high resolution images. This method costs more per print than the other methods and moves more slowly, but without the need for printing plates, set up is less expensive.
This makes digital printing a great option for small volume printing, samples, or test marketing.
4. Flexography (Flexo)
By far the most popular choice for printing on corrugated substrates, flexography uses an inked image carrier to transfer graphics onto a substrate. The process is gentle enough for corrugated substrates and can still achieve vibrant graphics on the final product.
Since flexography requires printing image carriers (one per color), there is some up-front cost associated with set up. Once the printing image carriers are ready, however, flexography is a cost-effective and high-speed method for printing large volume orders with attractive graphics.
For a complete guide to all of the considerations associated with flexo printing on corrugated -- from ink type, to image carrier material, to final product considerations, and more ....