[one_half]Luminite Products Corporation is proud to announce that Orchids Paper Products has been chosen as the 2013 Customer of the Year. The COTY award is our way of acknowledging best practices in developing a true partnership between supplier and customer.
Orchids Paper Products has demonstrated they are deserving of this award by challenging Luminite in every facet of our production capabilities. Throughout the year, this ongoing partnership has allowed Orchids Paper to produce outstanding quality products for their customer.
As part of our recognition process, Luminite has made a donation, on behalf of Orchids Paper, to the United Way Central Oklahoma May Tornado Relief Fund.
Orchids Paper is a leading supplier of imprinted paper towels to major retail chains throughout the US.[/one_half] [one_half_last]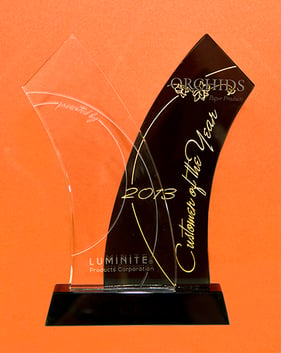 [/one_half_last]