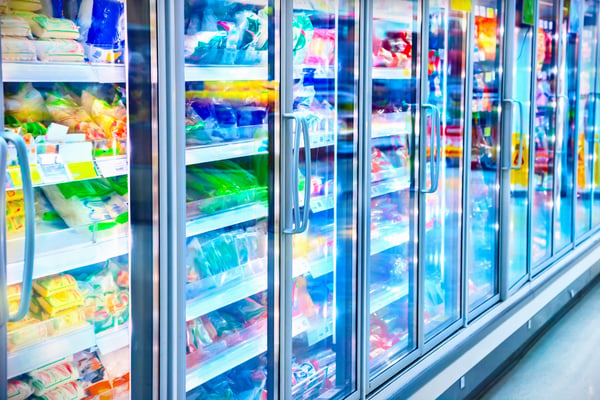 As you may already know, frozen food packaging requirements are quite different from that of non-perishables.
You have to consider the frozen food packaging film that's being used, as certain materials are critical for withstanding its unique home in the freezer. Aside from material strength, frozen food packaging design also needs to account for sealing, storage, and moisture-blocking.
But while package type might be at the forefront of frozen packaging design, the challenges of printing on it cannot be downplayed.
Here are the top five design considerations you must account for when printing on frozen food packaging materials.
Unwrapping Your Frozen Product Packaging Design
To avoid a chilly reception to your frozen packaging designs, take a harder look at these four factors:
Packaging type
Ink
Labeling
Aesthetics


1. Choose the Packaging for the Application
While there are several types of frozen food packaging, plastic film is often the preferred choice for its:
High strength-to-weight ratio
Ability to withstand low temperatures
Ability to protect from outside threats
However, the requirements for printing on plastic frozen food packaging substrates differ from the requirements to print on aluminum, tin, glass, and metal. Because these materials act as an absolute barrier, inks, coatings, and labels typically don't need any special modifications. This isn't the case when printing on plastic.
Know your frozen packaging materials and their printing requirements before you go to print, especially if you're working with custom frozen food packaging or styles with irregular surfaces.
Additionally, you want to ensure you're choosing a reliable and versatile printing technology, like flexo, that is supported by strong print materials, like elastomer sleeves.
2. Use the Right Ink
Where frozen food packaging requirements really start to separate from nonperishable food packaging is the printing ink that's used. When designing frozen food packaging, select an ink that provides exceptional adhesion, even in cool, harsh conditions. This advice is especially true for plastic substrates.
USDA commercial frozen food packaging requirements demand that several elements of the packaging stay intact through its life cycle:
Ingredient information
Barcode
Expiration date
To keep the USDA, store, and customers happy, make sure you're using ink that's ideal for frozen food packaging.
Making sure the surface tension between all your materials when working with speciality ink can be tricky. Be sure to check out our guide about ink bonding that discusses finding the perfect dyne level, and selecting the proper image carrier for your substrate and ink needs.


3. Don't Forget About Labeling
Regulations require that all packaged foods have at least basic labeling information.
Similar to how ink needs to adhere to packaging materials in sub-zero environments, labels do too. There are several types of labels considered freezer-grade and capable of enduring harsh temperatures. These include:
Don't forget: You can print your labels and lay down your adhesive using flexography, too!


4. Pretty Printing Still Matters
Just because your package will end up behind fogged-up glass doors doesn't mean you should phone in the design itself. Even in the frozen foods section, more attractive packaging is linked to higher sales.
Flexo printing is the preferred technology for most frozen food packaging because it:
Supports a variety of inks
Prints and dries quickly
Prints on all types of substrates


More Frozen Packaging Considerations
Successful printing on frozen packaging depends on the equipment and materials you arm yourself with. The ink and your printing machine can be either your ally or your enemy.
To learn more about using flexo ink effectively for your packaging, check out the free e-book below. It explores viscosity and PH considerations, the benefits of different ink types, and how to troubleshoot ink transfer issues: