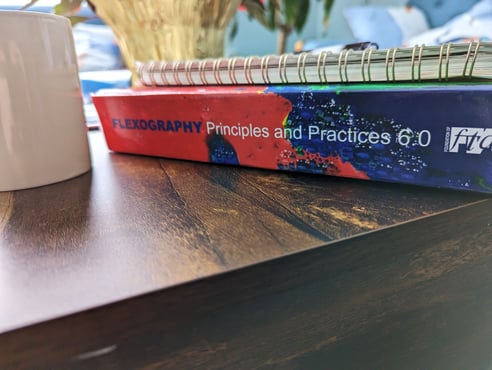 Editor's Note: This article is the second in a series evaluating three types of printing presses. Check out our other installment on inline presses.
Flexo printing provides a wide range of completed products, depending on the substrates and inks used, as well as the style, application, and type of press utilized.
When it comes to the right press for print quality - with a particular emphasis on tension control - the central impression press is the preferred choice.
A central impression (CI) printing press is a type of press that applies uniform pressure at each color station, which results in better tension control for substrates and prints.
Central Impression Printing Press | A Closer Look
There are several benefits associated with using a central impression flexo printing press. A CI flexo printing press is more efficient than other types of presses. The pressure applied at each station is uniform and evenly distributed across the width of the substrate. This creates less waste as well as reduced set-up times compared to other types of presses.
Central impression presses are also more reliable than other printing press types because of their design and construction. Many CI presses feature automated components that allow for faster job turnarounds and higher-quality prints.
Each CI press has eight main components that operate in tandem for seamless prints:

Infeed Guide
Nip Roll
Central impression roll
Inter station dryer
Fine Impression adjustment
Metering roll
Anilox Roll
Plate cylinder

Each section plays a vital role in the production of the final product:
Infeed Guide: A roll of the substrate is fed into the printing press. Tension must be maintained in order to prevent slack and avoid any wrinkling, misregistration, or web breaks.
Nip Roll: Also referred to as guide rolls, nip rolls guide the substrate into the press and through the printing process. This is where fine-tuning occurs if needed.
Central Impression Roll: Used to support the substrate as it moves through a series of adjacent plate cylinders during the print process.
Interstation Dryers: These dryers are located between colors to ensure each layer of color has time to set before the next color is applied. For a standard six-color press, you would have five station dryers between each color station.
Fine Impression Adjustment: Oftentimes, fine adjustments to the nip pressure need to be made. While these adjustments affect the pressure being applied from the image carrier to the central impression roll, having too much pressure can damage your substrate.
Metering Roll: The metering roll is a device that delivers a precise amount of ink to the cells of the anilox roller.
Anilox Roll: The anilox roller contains microscopic cells carrying a thin ink layer from the inking system to the image carrier.
Plate Cylinder: CI flexo printing machines can utilize several different image carriers, including plate mount cylinders, engraved elastomer-covered rolls, and air-assist mandrels with engraved (ITR) sleeves.


Benefits Of Working With a CI Press
Central impression flexo printing machines are designed to produce high-quality prints on a variety of substrates. Unlike inline presses, which print one image at a time, central impression presses print multiple images simultaneously. This allows for a higher degree of accuracy and consistency, as well as the ability to print on thicker substrates.
Central impression presses also typically have higher output speeds than inline presses, making them ideal for high-volume printing applications.
CI presses are different from other styles of presses in how they operate and achieve prints. CI printing machines print on a large sheet of paper that is then cut down to size after printing. This allows for more accurate registration and greater print quality overall.
In addition, CI flexo presses often have environmental benefits as well, using less ink and generating less waste than other press types. As a result, CI presses are increasingly being used for a variety of printing needs such as
Food bags and pouches
Pet food
Flexible packaging for non-food items
CI flexo printing presses offer many benefits over other types of presses, including better tension control and enhanced print quality.
The Cons of Choosing a CI Press
However, additional factors must also be considered when it comes to achieving high-quality prints. In terms of maintenance and print run adjustments, the central impression setup provides more challenges than an inline press.
The use of professional-grade materials and ink can increase the cost of each production run. Also, the capability of a CI press is more limited than other press types. Coating and lamination options are more limited as well when using a CI press.
Finally, the press has limits when it comes to the maximum number of decks that can be used. This can be a deterrent if your printing needs require a number beyond what a CI press can handle.
CI Press Breakdown: Weigh the Pros and Cons
The central impression press provides more efficiency and a consistent level of pressure to optimize each run and provide uniform prints. It also ensures better quality for each print. This type of press can be beneficial to companies that prioritize high-volume print jobs.
Flexographic Printing | Choosing The Right Image Carrier
Have questions about the image carriers' role in Central Impression flexographic operations?
Consult the experts with over 100 years of experience in the printing industry! Contact Luminite today or check out our new Flexo 101 Resource Hub below, your one-stop shop for Flexo resources, guides, and more!