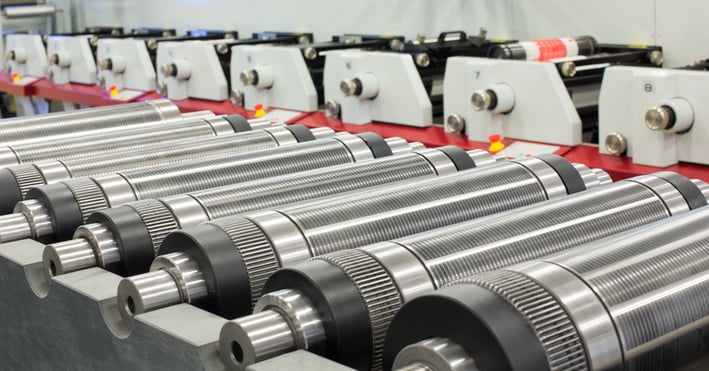 Editor's Note: This article is the first in a series evaluating three types of printing presses. Check out our other installments on central impression and stack presses.
With a wide range of substrate materials & sizes, as well as a plethora of different applications, different styles and types of printing presses exist to serve the wide-ranging flexographic printing industry.
Of all the press types, the most common flexo press found throughout print houses are inline printing presses.
To garnish the full potential of your artwork and ensure that your printer's inline-press is capable of handling the design of your next product packaging, poster, or other goods, it's important to have a thorough understanding of the components/sections of an in-line press and how they operate together.
Below, we'll break down the 6 major components of an inline flexo printing machine.
Diving In: Parts of an In-Line Printing Press
With the printing industry reaching nearly $80 billion in 2022, it's no surprise that different shapes, styles, and sizes of printers exist.
While commercial-size inkjet printers and a multitude of different full-scale printing presses have grown in popularity, inline flexographic presses are still the most commonly found presses throughout the printing industry. To better understand these presses, it's important to understand each component and its operation.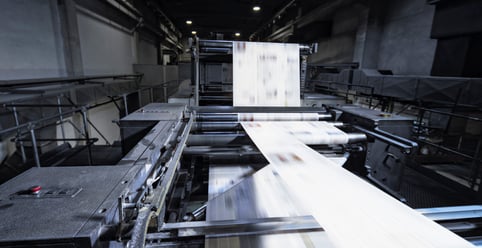 An Inline flexographic press has six main sections:
Unwind and Infeed
Enclosed Doctor Blade Inking System
Inking Anilox Roller
Image Carrier and Impression Cylinder
Dryer
Outfeed and rewind
Together, these six components operate in tandem with each to create a seamless printing system that can handle mass runs on a variety of substrates. Each section plays a vital role in the production of the printed goods.
Unwind and Infeed - A roll of the substrate is fed into the printing press. Tension must be kept taught to prevent slack which can cause wrinkling, misregistration, web breaks, and

other print defects

.


Enclosed Doctor Blade Inking System - A continuous cycling pump fills the enclosed chamber with ink. The ink is transferred onto the anilox roll with any excess removed by the doctor blade. The ink cycles in and out of the enclosed system during printing.


Inking Anilox Roller - The

anilox roller

contains microscopic cells which carry a thin layer of ink from the inking system to the image carrier. There are

4 main types of inks

that you can use - water-based, solvent-based, oil-based, and UV inks. Finding the right ink composition is important for anilox and image carrier material selection.



---

For more information on what type of ink will work best for your applications, check out our free Ink guide below:



---

Image Carrier and Impression Cylinder - The image carrier transfers the image to the substrate. The flexographic press pulls the substrate between the image carrier and the impression cylinder. Simultaneously, the impression cylinder holds exactly the right amount of pressure on the substrate for

even ink distribution

.


Drying - The substrate winds through roller-less and plate-less sections to dry the ink. Depending on the number of colors used, the substrate might pass through multiple image carriers, impression cylinders, and drying sections in a single print run (one per color).


Outfeed and Rewind - The final step on a flexographic printing press is the outfeed and rewind, where a substrate is rolled up again in preparation for a cutting die, which will separate individual prints.


Inline Flexographic Printing Machines | Image Carrier Services
An important component to any flexographic printing press is the image carrier.
To create an image carrier, there is some variance in the process dependent on customer requirements such as elastomer selection, adhesive requirements, dimensional considerations, and more -- However, the majority of image carrier services follow the steps below:

Receiving / Incoming Inspection
Base Preparation
Rubber Wrap
Autoclave / Vulcanization
Rough Grind
Trim
Finish Grind
Polishing
Laser Engraving
Print Proof
Final Clean-up
Final Inspection
Shipping
For more information on the image carrier creation process, check out our blog detailing a behind-the-scenes look at Flexographic Image Carrier Production.
As time progressed, Flexo industry thinkers have continually returned to the drawing board to increase productivity and quality, and achieve:
More press uptime
Higher speeds
Continuous print
Fewer printing defects
Less time troubleshooting
Less waste
Brighter colors
More diverse capabilities
From those discussions and improvements came Direct laser engraving (DLE) elastomer sleeves.
DLE elastomer sleeves are an integral part of any current-day flexographic operation as they
Increased production speed
Have fewer registration issues
Result in high definition and clear prints
Reduced waste and related costs
With direct laser-engraving technology and ITR elastomer, print houses can achieve high-end print results in a fraction of the time.
To find more information on DLE's and their benefits, check out our recent blog "4 Ways Direct Laser Engraving Aids Flexo Printing Quality & Efficiency"


Flexographic Printing | Choosing The Right Image Carrier
One of the most challenging aspects of operating an inline flexo printing press is identifying where a printing defect is occurring. While recognizing the type of defect may be as simple as looking at your prints, figuring out where the defect is occurring, and why can be challenging.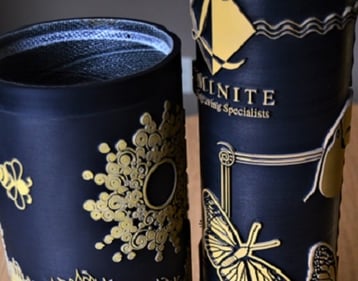 Working with image carrier providers with a proven track record of success is important for the longevity and success of your print runs.
While Image carrier services typically include the manufacturing of sleeves, cylinders, and plates, top-of-the-line manufacturers also offer support to the press operators when defects and challenges arise.
Luminite Product Corporation has provided high-quality, long-lasting products for the flexographic industry since 1926.
Have questions about the image carriers' role in inline flexographic operations? Are you experiencing printing defects during your press runs?
Consult the experts with over 100 years of experience in the printing industry! Contact Luminite today or check out our new Flexo 101 Resource Hub below, your one-stop shop for Flexo resources, guides, and more!