The argument could be made that there are more requirements for medical industry packaging and labeling than any other industry. You have to meet the FDA's requirements for physical packaging, of course, but you also need to be clear and concise about notations and instructions.
With today's printing capabilities, you don't have to compromise print quality and detail for a low-cost sustainable solution, and there are a few tips that you can stick to with medical packaging and labeling to make sure you get excellent printing quality with the precision you need.
Flexo Printing Medical Charts and Documents: All in the details
Printing for medical or pharmaceutical use may include packaging, charts, or diagrams, but they all have one thing in common- the details are essential. Complex FDA guidelines for medication require the exact information you require to be legible and transmitted pristinely onto every single unit.
Even for internal documentation such as patient charts or visual aids, a slight error in printing could cause detrimental confusion.
A sustainable print solution for medical packaging and labeling should typically use flexo printing. While it's common to print flexo using photopolymer plates, many savvy printers are making the switch to durable and versatile materials such as elastomer sleeves.
These in-the-round (ITR) cylindrical sleeves allow continuous printing, without gaps or breaks that may compromise the important information included on prints which may lead to costly waste or worse, oversights and misunderstandings from a final product user.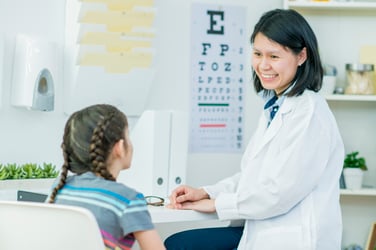 Elastomer Print Sleeves: Crisp, clean quality, every print run
Elastomer allows for greater engraving detail and improved durability, which gives you more print for your money at significantly higher print quality.
Due to the computer controlled, laser engraved nature of the method - flexo printing stepping with elastomer sleeves can be so exact, that it is the only responsible option for labeling and documentation of intricate technologies in the medical field. Additionally, the direct digital, in-the-round laser ablation removes any risk of distortion from your final prints. Many visual aids and printed text on expensive equipment have small text and visual aids that often convey incredibly important warnings or instructions.
Smaller and more detailed text and visual aids typically mean wear over time can hurt the print quality, so the highest quality possible is absolutely essential. Fine detail on small but essential print is incredibly important, and flexo printing with elastomer sleeves is the best way to ensure high-quality prints every time. At Luminite, we support you through the recommendation and selection process for an elastomer compound that will wear well and transfer well, resulting in less replacement needed.
Precisely-engraved elastomer sleeves can ensure that these are practical and readable.
Save Money and Headache: Flexo is Versatile and Adaptable
The medical industry can be full of red tape, and bureaucratic requirements can continue to shift and evolve year after year. Flexo printing with elastomer sleeves gives you an advantage when it comes to an unforeseen pivot compared to more traditional printing methods.
When working with an experienced flexo provider, you can find solutions for all your medical industry printing needs without having to work with multiple vendors. The simple ability to have your print roller and glue roller manufactured in one place ensures that they are registered together, saving you time and money down the road.
Depending on the nature of the project, you may be able to re-engrave your existing elastomer sleeve, which would save money as well as lead time. While this option isn't possible for every project, it can be achieved with certain specifications.
Contact an Expert Support Team
The medical industry is such that you are expected to control all variables and not make mistakes. Sometimes this bar seems unrealistic and overwhelming when it comes to medical industry packaging and labeling, but with modern print technology, it shouldn't feel impossible to get a quality print with the detail you need.
If you have any questions about medical industry printing for packaging and labeling, reach out to us. If you're currently having problems printing your medical supplies, our technical support team will be happy to assist in troubleshooting, leaning on 95 years of experience in the commercial printing industry.
In the meantime, check out our guide for flexo printing by substrate to troubleshoot issues you may currently be experiencing with your medical packaging printing: