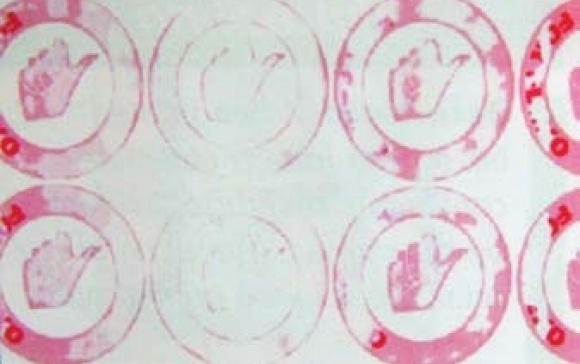 Is your substrate coming off the press with prints that are either too light or entirely missing in sections? That's what we in the business call skip out, very common among flexo printing defects.
Skip out is a simple question of poor ink transfer with a variety of paths to solutions. Poor ink transfer could be the result of multiple defects involving:
Press mechanics

Surface tension and surface energy

Pressure

Ink viscosity and pH

Maintenance and cleaning
So let's begin troubleshooting.
Poor Ink Transfer Causes Skip Out
Let's start with common sense: You need your ink to wet out completely on the substrate.
No matter the substrate, press mechanics play a critical role in getting the job done right.
Press Mechanics
High printing speeds in today's flexographic printing industry make it impossible not to consider the importance of accurately balancing rollers and cylinders housing the image carrier, web, and substrate. Balancing distributes the roller's mass, which avoids the following issues that could skew your imagery:
Wobbling

Resonant vibrations

Excessive plate or cylinder wear
Drive systems, which are intended to pull the web evenly through the press and its rollers, must be calibrated to achieve a constant speed and even pressure to ensure the substrate uniformly contacts the image carrier. Worn-out bearings and gears can also cause unwanted side-to-side or up-and-down movement across or away from the web.
Poor contact equals poor ink transfer.
Surface Tension and Surface Energy
Flexo surface tension and surface energy affect wettability. Proper wetting of the substrate depends on the surface tension of the ink, surface tension of the image carrier, and surface energy of the substrate.
Surface tension

, which is expressed in dynes/cm, is the tendency of liquids to act in open air as if they're surrounded by an elastic barrier. Think of this like beads of water forming on a freshly waxed vehicle.

Incorrect ink surface tensions can prevent the ink from transferring and adhering to the substrate.
Surface energy

, which is measured in joules/sq. meter, is a similar concept that's applied to solids. It is the excess energy at the surface of a material compared to its bulk.

The

ink must have a low enough surface tension

compared to the image carrier so the ink can adhere to it. In turn, the

substrate must have a higher surface energy

to fully pull the ink off the image carrier.
Pressure
Pressure applies ink from your printing plates or sleeves as they contact the substrate. Not enough pressure or not enough ink results in a faded or barely visible print. However, on the opposite side of the spectrum, too much pressure can causes the ink to extend beyond the edges of the print area, a printing defect commonly known as feathering.
The best way to avoid pressure-related defects is to ensure pressure is constant and uniform across the web.
Ink Viscosity and pH
Carefully controlling ink viscosity for solvent-based inks and pH level for water-based inks should yield exceptional flexo prints.
Temperature and viscosity are interlinked. Water-based inks rely on controlling pH levels to maintain the solubility and stability of the resins and solvents within. Automated systems can now control these important variables.
Maintenance and Cleaning
Show your flexo sleeves, plates, and cylinders some TLC. Seriously, they need it. Maintaining and cleaning them will not only extend their useful lives, but will also help ensure quality prints.
Use cleaning chemicals and materials that are non-abrasive and appropriate for the job. Use mild soap and water or industrial alcohol for water-based ink on most elastomer types. Use an appropriate solvent for the following inks:
Solvent-based

Oil-based

UV-based

EB-based
Cleaning needs to be done immediately after removal from the press. Always use a soft-bristled brush to clean stubborn ink and debris. Let your flexo products air dry, and properly store at least 4 hours later in temperate conditions and away from ozone-emitting appliances.
Troubleshoot Poor Ink Transfer to Avoid Skip Out
Down press time and wasted substrate caused by images skipping out can cost you money. It's most likely an issue with ink transfer, which could have a variety of causes.
Closely calibrate your equipment and inks to ensure:
Smooth operation

Uniform contact of the image carrier across the substrate

Full wet out and absorption
Still having trouble? Check out our troubleshooting guide below or call us toll free at 1 (888) 545-2270.
Editor's Note: This article was published in February 2018 and has since been updated.