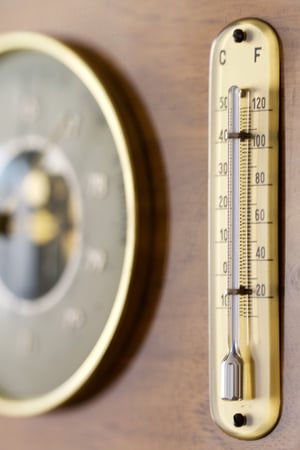 Atmospheric conditions can be a root cause of issues with ink drying and viscosity in flexographic printing. On a related note, these conditions can also affect the speed at which you can effectively run your press. Pressroom climate (whether it's too warm, cold, humid, or arid) has everything to do with how your ink reacts and performs with the anilox, image carrier, and substrate.
Failure to maintain the optimum pressroom environment for your printing could lead to a host of flexo printing defects and decrease print quality.
Flexo Inks: Pressroom Climate Conditions that Affect Drying & Solubility
Monitor these variables and adjust, if necessary, to best suit your printing operations. Among the 4 most common types of flexo printing inks, we focus specifically here on climate and its effects on water-based and solvent-based inks.
Humidity
Water-based inks dry as their water component evaporates off the printed substrate. In humid conditions water-based inks will dry more slowly; in arid conditions they'll dry quickly. You must balance conditions accordingly to optimize the process. If not monitored and adjusted, too much humidity or aridity could cause serious ink transfer and drying problems.
Solvent-based inks also dry through evaporation. Ambient moisture can be absorbed by alcohol or acetate based inks when high humidity is present. The additional moisture can cause resins within the ink to have less solubility, causing dirty printing. Cover your ink-delivery systems to limit evaporation before the ink contacts your substrate.
Temperature
Think about winter weather. Frigid air can feel much drier, right? (It's why our hands get dry and cracked more easily in the extreme cold.)
Warmer air simply takes in and holds greater moisture. Thus, water-based inks dry better in warm air combined with lower humidity.
Solvent-based inks are also affected by temperature, though the drying effects are less pronounced. Solvents, like alcohol, evaporate more quickly the higher the pressroom temperature. But the higher the temperature, the more acceptable a higher level of humidity can be for evaporation and producing a quality print.
Take note: The typical time frame for drying speed of common solvents can be longer for alcohol-based inks than water-based.
Air Circulation
You need the maximum drying air passage possible for water-based inks. Greater air circulation ensures air that is full of moisture is pushed out and replaced by air containing less moisture, thereby helping the drying process. Do your best to avoid unbalanced dryers. These can blow air onto your flexo sleeves, cylinders, plates and/or anilox and cause the ink to dry before it can fully wet out on the substrate. If the ink dries on the anilox, or image carrier, that can also cause dirty printing.
For alcohol-based inks, dryers are designed to allow more solvent to build up before air is removed. In these conditions, however, less solvent may be removed from the printed web because of a higher solvent content in the dryers. Make sure your dryers are operating at peak performance.
Optimize Your Pressroom Conditions to Ensure Flexo Inks' Transfer & Solubility
The best conditions needed for both water-based and solvent-based inks to dry are:
Warm temperatures

Low humidity

Max air circulation
Finding the optimum combination can be tricky. Depending on location, it may take experimenting and troubleshooting to find that miracle temperature or humidity setting. But the journey is worth it in the name of quality printing and decreasing press downtime.
(Editor's note: This article was originally published in June 2018 and was recently updated.)