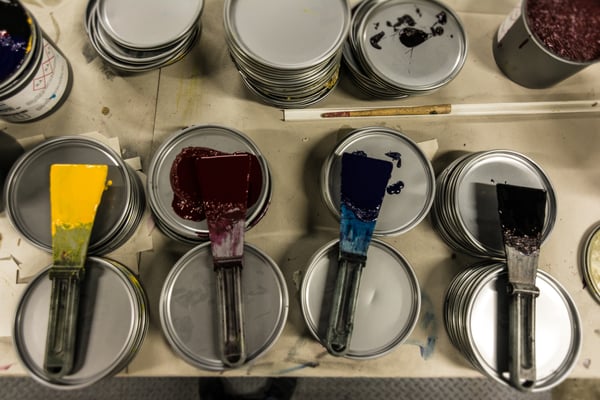 Flexo printers often awake in a cold sweat from nightmares of inky horrors. Okay, maybe that's an exaggeration, but ink-related problems can really keep flexo printers up at night. When it comes to sustainable inks for packaging, planning volatile organic compound capture, testing viscosity, and wettability are common issues in the press room.
Is it possible to use inks that provide the best color while eliminating those same problems? Enter sustainable inks for printing with flexo.
Substrates and inks are a big part of the push for sustainable printing practices, but they're not the only way to get on a greener path. Considering the end life of your product and the processes/equipment, including the use of sustainable packaging for shipping, you use to get there can play a significant role as well.
We'll explore all that soon, but first, let's start with the basic sustainable inks for printing.


4 Sustainable Inks for Printing Eco-Friendly Packaging
While there is no 100 percent sustainable flexo ink, there is certainly a hierarchy of printing inks, with some being more eco-friendly than others.
At the moment, the four prominent sustainable flexo inks for packaging include:
Water-based inks
Soy/vegetable inks
UV inks
Algae inks


Water-Based Inks
If you're serious about sustainable flexo inks, you'll want to avoid anything solvent or oil-based, or inks made using petroleum.
Water-based inks are a great alternative, as they contain lesser amounts of volatile organic compounds (VOCs) and contain simple ingredients.
Water-based inks are probably the oldest eco-friendly ink around, and they're popular for highly absorbent substrates, like corrugated paperboard.
What's more, prints still look great with these types of inks, so you're not sacrificing quality for sustainability. Plus, they're:
Soy/Vegetable Inks
Vegetable-based inks are typically either derived from an organic compound, like corn oil or soybeans, and they're designed to print in a way that significantly reduces the release of VOCs.
Plus, the natural components used to make these inks are easier to recycle and break down faster than conventional inks. Soy-based inks are a great option for those who need more vibrant colors and quality but want to be more cost-effective and eco-friendly.
Though these types of inks aren't as widely used as many of the others on this list, they remain a viable sustainable alternative for printers serious about minimizing their carbon footprint.


UV Inks
Now's a good time to mention the distinction between different kinds of inks. Generally, inks are categorized into volatile inks and curable inks.
Volatile inks cure via absorption and are the most common type of ink. Curable inks, on the other hand, have very little absorption and dry using an ultraviolet light or electronic beam.
UV inks, or those that are dried using ultraviolet light. These inks dry almost instantly under a UV light and release 99.5% fewer VOCs. Plus, curable inks eliminate the need for additional coatings and protectants, unlike conventional volatile inks.


Algae Inks
We'll round out this list with another alternative to petroleum-based printing inks: algae inks. Often dubbed "the most sustainable ink," this ink has a negative carbon footprint and is said to reduce carbon emissions by up to 200 percent.
This type of ink is sustainable, renewable, and biodegradable. The pigments in the ink are renewable, and the other ingredients are VOC-free. Algae ink can be safely disposed of down the drain in any workshop, while the same cannot be said of other commercial printing inks.
It's also resistant to UV light. This technology is still fairly new, however, so there's reason to believe that we're just now starting to tap into its full potential.


Other Sustainable Packaging Ideas: Ink Equipment Edition
Materials make up most of the conversation around sustainable flexo printing. However, that doesn't mean processes and equipment are entirely excluded.
Ink control automation is one way to strike the right balance between quality and sustainability. Simply put, ink control automation works to streamline and balance printing operations to reduce waste, using only the exact amounts of ink. In addition to using less ink and contributing to a more all-around sustainable solution, implementing this type of solution can also help reduce overall printing costs.
Another great way to create a more sustainable process is to reevaluate your image carriers. Photopolymer plates create a lot of waste, especially with all the chemicals needed to etch and clean them.
Elastomer sleeves are made from a durable rubber polymer that lasts longer than other conventional image carrier materials. Plus, elastomer sleeves can easily be cleaned without harsh chemicals. Two-fold savings!


Reaching Your Sustainable Flexo Goals
Whether you want to make the shift to 100% sustainable inks or revamp your image carriers and other equipment, partnering with a flexo print provider can help you reach those goals.
An expert flexo printer can provide valuable advice about sustainable approaches to flexo printing as well as troubleshoot issues with current printing processes.
Plus, a flexo specialist can help you establish a sustainable printing strategy, which should include inks, substrates, and image carriers!
(Editor's note: This blog was originally published in September 2020 and was updated to reflect current information.)