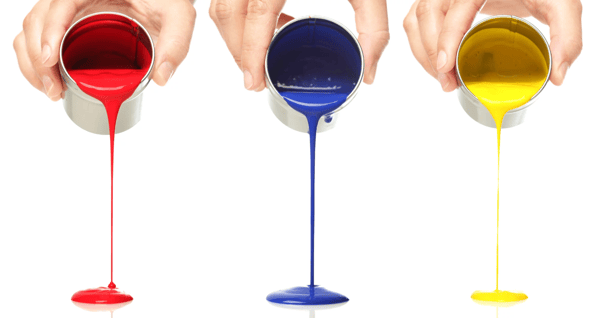 Selecting ink for your flexographic printing projects isn't a decision to make without consideration. Additionally, ink selection should not be made considering cost alone.
The ink you choose should be selected based on a variety of factors, such as:
Product use
Substrate
Image carrier materials
Chemical compatibility
Surface tension
Print speed
Plus, some inks contain components that fall under very specific safety, storage, and handling regulations -- all of which should also be kept in mind before ordering ink for your flexo print job.
Flexo Inks 101
There are two categories of flexo inks commonly used in the printing industry:
Volatile Inks - Water based, oil based, and solvent based inks that set and dry by evaporation or absorption


Curable Inks - UV/ EB inks which are set and dried with exposure to ultraviolet light or electronic beam
For the purposes of this article, we'll focus on two of the most popular volatile inks to help you decide whether water or oil based flexo ink is the right ink for your print job.


Everything You Should Know about Water Based Flexo Ink
Water based inks are regarded as the most environmentally friendly due to their simple list of ingredients, which includes:
Water
Pigment
Defoamers
A handful of agents that help with adhesion and drying.
They're also generally the safest inks to store.
Water based flexo inks have considerably high surface tension, typically the highest of all inks, making them popular for printing on highly absorbent substrates of heavy weights, like corrugated packaging materials.
They are compatible for use with every type of elastomer sleeve.


Everything You Should Know about Oil Based Flexo Ink
Oil based inks contain:
Pigments
Hydrocarbons
Oil (often soy oil and sometimes mineral oil)
The types of solvents with which oil based inks are blended are quite caustic.
As a result, oil based inks should be handled with care. They also come with regulated storage, clean up, and handling guidelines for safety and environmental protection.
For instance, oil based inks create volatile organic compounds (VOCs) that pollute the air and are hazardous for employees and the environment. If you're using oil based inks, having the right containment and disposal process for VOCs is a must.
Due to their ingredients, it's recommended that oil based flexo inks be used with certain elastomer materials. It is common when printing with oil based flexo inks to require hydrocarbon resistant elastomer sleeves.
Oil based inks adhere to materials primarily through absorption. As a result, they are best paired with substrates like newsprint, commonly used in the publication industry.


Alternative Flexo Inks
Maybe you're not totally stoked by water or oil based inks -- and that's fine! There are plenty of other flexo ink options out there, and most of them are sustainable alternatives.
Vegetable based inks - Vegetable based inks are derived from an organic compound, like corn oil or soybeans, and they're designed reduce VOCs. Not to mention that they're easily recyclable and overall less harmful to the environment after use.
UV/curable inks - We talked about this briefly, but it merits a more in depth look. These inks dry almost instantly under a UV light and release 99.5% less VOCs. You can reduce your equipment needs with UV/curable inks, as well as the need for additional coatings and protectants unlike conventional volatile inks.
Algae ink - Algae? That's right. This ink is super-sustainable, and it actually has a negative carbon footprint, meaning it does more for the environment that pretty much any other ink mentioned here. Algae ink is UV resistant.


Get a Professional Opinion from a Flexo Expert at Luminite
When it comes to choosing a flexo ink, it's really all about pairing the right dyne level and surface tension with the proper substrate absorption, and then selecting printing sleeves that are compatible with the ideal ink.
Water based ink pairs well with highly absorbent substrates like paper and corrugated cardboard, and oil based ink works well with substrates such as newsprint and other periodicals.
If you plan to print on other less-absorbent materials, such as foil or plastic, you'll need a fast-drying or curable ink, like a solvent based or UV ink to maintain print quality.
For more information about pairing the right inks with the right substrates and selecting a compatible image carrier, contact a flexo expert at Luminite.
Editor's Note: This blog was originally published in August 2019 and has since been updated.