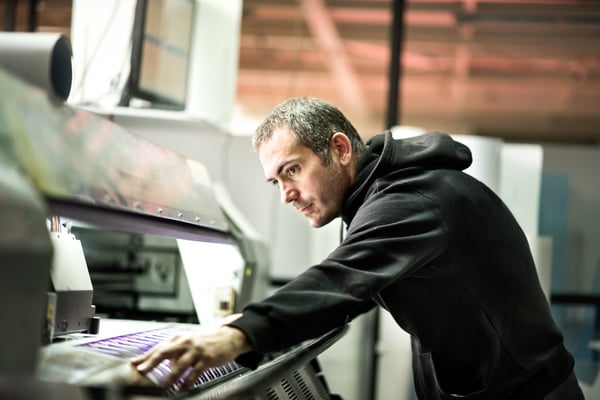 As the manufacturing society trends toward more eco-friendly practices, it's important to consider whether or not you're using sustainable printing methods.
Not only do you want to use sustainable materials like recyclable substrates and low-VOC inks, but you also want to optimize your pressroom to reduce waste.
So it begs the question, "Which printing method is the most sustainable?" Is it flexographic printing, or another method?


The Least Sustainable Printing Methods
The printing world has a wide array of printing methods for manufacturers to choose from, but that doesn't mean all of them are ideal for a sustainable pressroom.
Some of the most popular printing methods are also, coincidentally, the least sustainable. Take, for example:
Rotogravure printing
Litho printing
Screen printing
Offset printing


Gravure Printing
Gravure printing is arguably the least sustainable printing method long-term.
Gravure requires metal cylinders to carry the ink, which is applied to recessed portions of the cylinders. The cylinders typically only carry one color, and the inks used through this process are highly solvent-based, creating harmful byproducts.


Litho Printing
While litho offers some more sustainable practices as far as materials used, the multistep process of litho creates a lot of extra effort into print runs. Requiring a transfer onto a liner board, litho is also incredibly limited in its applications.


Screen Printing
Screen printing is a valued printing method because of the vibrant colors it's capable of producing. Screen printing, however, is one of the least sustainable methods available for large-scale production.
Screen printing inks often contain harmful chemicals like phthalates that can easily leach out after the product cures. Screen printing produces toxic fumes, and nearly all materials used are non-recyclable hazardous waste.
As if that weren't enough, reusing inks and screens is difficult. Though screen printing may give great results on some substrates, it's the least sustainable way to produce large volumes.


Offset Printing
Offset printing is a form of indirect printing, using plates to transfer ink to a rubber cylinder called a blanket, which then transfers the ink to the substrate.
On the sustainability spectrum, offset printing falls somewhere in the middle. It requires more equipment, namely the blanket cylinder, and takes longer to set up. Plus, the inks used for offset are often oil-based, and the cylinders must be washed after every use. The oil-based inks often contaminate the water used to clean them.


The Most Sustainable Method: Flexography
Flexo has been repeatedly proven to be the most sustainable printing method. Flexo has the ability to easily print on pliable and flexible substrates, allowing the use of more sustainable and recyclable materials.
Flexo can accommodate water-based inks and methods like anilox laser cleaning to further reduce waste and water contamination.
Plus, by using elastomer blend sleeves, flexo saves the printer money. Gravure cylinders are extremely costly (and heavy) and are capable of about 50 million impressions before they need replacement. Elastomer sleeves aren't capable of such a high impression count, but they are capable of being ground down, recovered, and re-engraved for a new image.
In the last ten years, the advancements in flexo printing equipment--everything from incorporating anti-bounce technology to AI solutions for ensuring quality prints-- have far surpassed the technological advancements of other printing methods.


Breaking Down Sustainable Printing Practices
Reusability and adaptability are key to having a sustainable printing operation. Methods like litho and gravure severely limit reusability, which can lead to huge storage and waste issues when more than one printing task is necessary.
A few other considerations go into what makes for sustainable printing practice, including:
Inks
Volatile organic compounds
Energy consumption
Image carrier material


Inks
Many inks contain harmful and toxic chemicals, leading to water contamination and harmful waste during production. Using sustainable inks decreases the footprint of your operation.
Once you print onto a substrate, that ink and substrate are connected and cannot be easily separated. As this bond slowly degrades during recycling and disposal, certain inks may prove to be harmful to consumers.


Volatile Organic Compounds (VOCs)
VOCs are harmful pollutants often resulting from the solvents in harsher inks. Litho printing tends to be pigeonholed into oil-based inks containing a plethora of harmful VOCs.
Using water-based inks is one of the best ways to cut down VOC footprint in a printing operation. Flexo can accommodate a large variety of inks to fit your needs, including water-based inks.


Energy Consumption
Though energy consumption level tends to balance out between processes, the secondary tasks associated with certain printing methods can massively change energy output. Thanks to digital technology, newer equipment uses less power than older equipment. This makes flexo particularly attractive.
Using air mandrels and quick changeover sleeve technology, paired with digital monitoring, flexo is able to run much more efficiently than alternatives.


Image Carrier Material
The materials you use also affect the sustainability of your printing operation. Flexo offers you unique flexibility in choosing more sustainable materials.
Decades ago, flexo sleeves were created with photopolymer, which offered cost-effective, high-quality printing. Today, silicone and elastomer sleeves offer similar image quality without the hazardous chemicals that come with photopolymer.
While many printing methods require the use of flat plates, flexo's in-the-round design avoids harmful washout. In-the-round solutions only has one tolerance to consider whereas flat plates have three different tolerances to align.
Plus, post-production cleaning flexo in-the-round sleeves is far more eco-friendly than other printing methods. Where plate production needs excessive amounts of water or chemicals for cleaning, elastomer sleeves require little more than a brush down and a rinse. Any small amount of harmful VOC waste is turned into smoke by thermal oxidizers and easily collected.


Sustainability for the Future
Though many printing methods offer little environmental sustainability, the most responsible methods of printing allow for easy reuse, leave a lighter energy and waste footprint, and accommodate the most sustainable inks and substrates.
There's always a way to reduce your operation's footprint and improve sustainability.
To learn how to take your printing operation from mean to green, check out our sustainable printer's guide!
Editor's Note: This blog post was originally published March 19, 2021 and was updated January 2022 to reflect updating information.