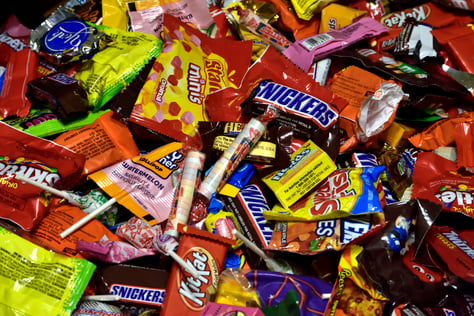 In flexographic printing, maintaining a high quality of the finished product is always the primary goal. This must be accomplished in the face of demands to increase productivity, decrease waste and minimize costs.
Great advances have been achieved in meeting these goals, but printers can still experience issues when it comes to printing on various substrates.
If your print company is experiencing issues with flexo printing on film substrates, consider the following troubleshooting tips.
Common Printing Problems Associated with Flexo Printing on Film
According to the FTA, printing on film does come with unique challenges. Common films currently in use include polyolefins (polyethylene and polypropylene), polyamide and polyester.
Films are generally non-porous, extremely smooth, and quite flexible, with very low surface energy. Some problems associated with flexo printing on film substrates include:
1. WETTING:
Films are usually non-absorbent and have low surface energy, which can make wetting a unique challenge. The ink can pull on itself, leading to pinholes and fish-eyes. To avoid this printing defect, it is necessary to closely align the surface energies of the ink, image carrier, and film.
With a wider range of surface energies available, elastomer image carriers offer much more flexibility and control than standard photopolymer plates.
An inline surface treatment such as corona treatment, flame or plasma can be used to raise the film's surface energy.
2. SUBSTRATE WRINKLING:
Some film substrates can be very thin, which can lead to wrinkling if the tension is not adjusted properly during the printing process.
The material must be kept taut without web break, but still flexible enough to flow through the print rollers.
3. INK FLAKING:
Film does not absorb solvents from the ink, so all ink drying must occur from the surface. Ink that does not dry properly may not adhere and could flake off the film surface, or come off when the material is flexed.
This could be attributed to improper ink, ink viscosity, surface tension, solvent or drying procedure.
4. FILM VARIANTS:
As the printing and packaging world evolves, new types of substrates are being introduced that may test the assumptions of previous processes. In some cases, traditional plastic films are being replaced by biodegradable and compostable films which may not respond in a similar manner during printing.
Research on this variable has found a correlation between optical density and wettability, as well as surface free energy. However, it is possible to choose newer film materials with properties that correspond closely to traditional films in order to obtain a high-quality print product.
How to Address Common Film Flexo Print Problems
Challenges in flexo printing on film can include poor print quality, inefficient drying, clean-up problems, and other mishaps. Tips on how to improve the process include:
Drying: Choose an ink type that will dry and adhere properly.

Wetting: Use inks that can completely wet the film surface in order to achieve maximum adhesion.

Tension: Adjust the tension to keep the film sufficiently tight.
Contamination: Keep image carrier and anilox in top condition and look for dried ink and other particulates.
Anilox: Choose an anilox with cells that support the appropriate ink transfer volume.
Flexo Problem Still Not Solved?
For more information about troubleshooting flexo film printing problems to minimize dot gain, reduce wrinkling, maximize ink coverage and produce vibrant colors, contact a flexographic printing expert at Luminite.