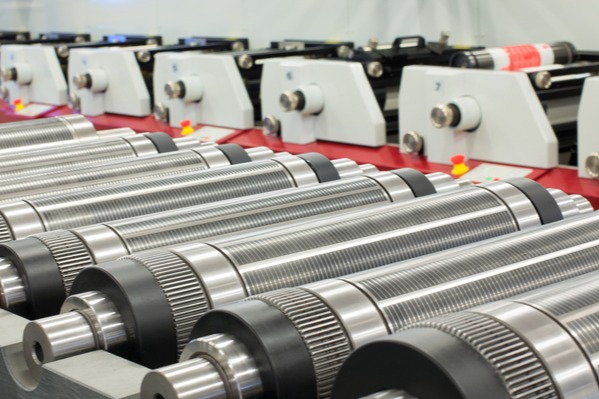 Flexible packaging is everywhere, from snack wrappers to health products. Flexible packaging printers need to streamline their processes to maximize output, but they also have to maintain environmental standards for volatile organic compound (VOC) emissions.
Here we'll take a look at some of the guidelines and best practices for production line efficiency and environmental awareness.
How Does Flexible Packaging Printing Work?
Flexible packaging printing encompasses a number of processes in the manufacturing chain. Printing is only a small part of the entire manufacturing process; lamination, cutting and folding are more time consuming than printing.
But, for the sake of this article, we'll only address the printing aspect of the manufacturing process. There are two primary methods for flexible packaging printing, flexography and rotogravure.
Rotogravure
Rotogravure, commonly referred to as gravure printing, starts with an image or text engraved on a metal cylinder. Very fluid ink is used to transfer the desired image onto the substrate, and some of the ink or coatings and adhesives evaporate as the substrate is passed through hot air dryers. This process releases VOCs, especially if the ink is solvent-based.
Gravure printing is expensive to produce and set up, and is ideal for longer print runs.
Flexography
Instead of using an engraved plate or roller, flexography uses rubber or elastomeric sleeves and plates as image carriers. Flexographic printing uses both water-based or solvent-based inks, but much like gravure printing, there is an amount of VOC off-gassing involved with them.
Flexographic printing is often used for shorter printing runs because the production of plates or sleeves and press set up is easier and faster than gravure set up.
Flexible Packaging Printing VOC Emission Control Methods
There are 2 ways that VOC emissions enter the atmosphere: evaporation from inks, coatings, and adhesives, and evaporation from cleaning materials. To protect the health of your workers and the environment, it is important to implement the correct VOC emission control methods. The most effective ways are described below.
Containment
Capture systems are a critical component of maintaining a VOC-free work environment and limiting emissions. These control systems are designed to capture solvent laden air and push it toward a control device. The system will often include things like
Fume hoods
Floor sweeps
Permanent total enclosures (PTEs)
PTEs are a way to ensure that your workers are kept safe from VOCs, and by enclosing high-risk equipment or areas, you can work toward 100% capture efficiency.
However, PTEs are not always necessary. Many newer flexographic or rotogravure presses have integrated capture systems, often with 85-90% capture efficiency.
Control Devices
There are a number of control devices available to integrate into your warehouse environment to help mitigate VOC emissions.Today, control devices operate with about 95% efficiency in VOC regulation. Most control devices contain
carbon absorbers
thermal oxidizers
catalytic oxidizers
Carbon absorption allows the capture of VOCs as a condensed liquid and promotes reuse or better recycling. Finding out what control device is meant for your workspace depends on the size of your building, the type of inks, coating, and adhesives you use, and how much solvent laden air needs treated.
Low-VOC Inks, Coatings, and Adhesives
While a number of methods have been developed for the capture and recycling of VOCs, there is a way to prevent VOC emission in the first place.
Some flexographic and rotogravure printers use water-based inks, which are more environmentally friendly than other conventional inks. Water-based inks contain alcohols or glycol ethers that help to improve flow characteristics and lower surface tension, and if implemented in printing use, can significantly lower or eliminate VOC emissions.
However, depending on your printing systems, you may need to retrofit your equipment to be able to use water-based inks. Flexographic and gravure printing utilizes hundreds of different inks, coatings, and adhesives, so there is bound to be an eco-friendly available for your printing needs.
Protecting Your Product, Protecting the Environment
Now you know a little bit about the technicalities around VOC emissions, it's time to think about what else you can do to make your printing processes more efficient.
Flexographic printing is overall more environmentally sustainable than gravure or photopolymer printing. The elastomer sleeves used for flexo last longer than metal plates or cylinders because the elastomer is naturally resistant to most corrosive inks and other materials. By using elastomer sleeves, you can reduce
Waste from damaged or exhausted rollers
Production costs
Time spent setting up complex presses
If you're interested in how flexo can make your business more environmentally aware and increase your production possibilities, take a look at the services Luminite offers!