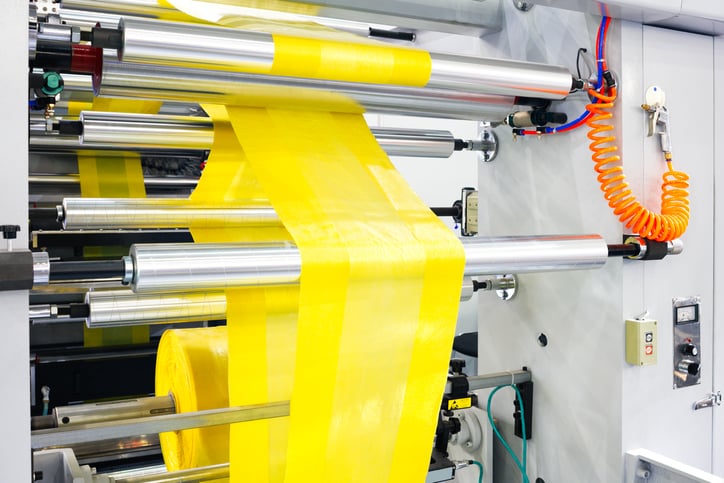 Editor's Note: This article is the third in a series evaluating three types of printing presses. Check out our other installments on inline presses and central impression presses.
Flexo printing requires adaptability and effective use of various inks and substrates. The right press handles the appropriate substrate with suitable adjustments based on the printing project at hand.
Scenarios where printing on both sides is best practice make the stack press the ideal choice for a print house to put to use. Tissues and napkins are prime examples of ideal use cases for a stack press. The initial investment for a stack press is also a point of appeal, as they tend to be less expensive than a central impression press.
The stack press can be either gear or servo-driven. The setup involves stations that are vertically situated, one above the other. This provides easier access for changing inks or maintenance. Typically, the stack press is a six-color setup. The maximum tends to be eight, limiting the printing project's color options.
Deep Dive into Stack Press Components
One main benefit of using a stack press is the accessibility of the printing units and their relatively small footprint due to their vertical setup.
A stack press includes individual impression cylinders and print roll-to-roll. A six-color stack flexo press typically has eight main components of press:

Infeed Tension rolls
Metering roll
Anilox roll
Plate cylinder
Impression roll
Print station
Interstation dryer
Main dryer
1. INFEED tENSION rOLLS
These rolls maintain tension as the substrate is fed into the press. In certain printing scenarios (as required), the infeed is set up to allow for printing on both sides of the substrate as it progresses through the stations.
2. Metering Roll
This roll applies ink in a predetermined volume to the anilox roll. This precision has a direct effect on the accuracy and clarity of the print.
3. Anilox Roll
Minute cells on this roll carry a thin layer of ink to the image carrier. Ink consumption is an important factor to consider, as it can be a costly aspect of the printing process
4. Plate Cylinder
The plate cylinder can be any one of a variety of configurations, including an engraved elastomer-covered roll or a plate mount cylinder.
5. Impression Roll
This component supports the substrate as the image carrier transfers the image.
6. Print Station
Each print station provides a different color to the overall image. A stack-type flexo printing press can have anywhere from one to eight print stations, although typically there are six.
7. Interstation Dryer
These dryers are located between print stations. They ensure the print is dry, which is particularly important in the case that the reverse side will be printed as well.
8. Main Dryer
This is the dryer used to set the print and finalize the quality of the product.
Benefits of Working with a Stack Press
The stack press is popular for the limited amount of floor space required for setup and operation. The press also provides accessibility that's not found in other press types and some printing options not available elsewhere. The four main benefits of printing with a stack press are:
Color stations are easily accessible – making a change of color and cleanup easy to accomplish.
Web is reversible – allowing the option to print both sides of the substrate
Large-volume runs are easy to accomplish
The stack press prints easily on almost any substrate
Stack Press Printing Benefits Defined
Utilizing a stack press is beneficial when floor space is limited. Investing in a stack press can also be influenced by the need to print on both sides of the substrate or if large-volume print runs are best for your print needs. This type of press provides accessibility for color changes and peace of mind regardless of substrate choice.
Stack Press Ready with Image Carrier Questions? Talk it Over with Professionals
Luminite has more than a century of experience in providing effective image carriers for an optimal flexographic printing process. If you have questions, our experts can help you make sure your image carrier is not contributing to printing concerns. Contact us today with questions, or check out our Flexo 101 resource hub!