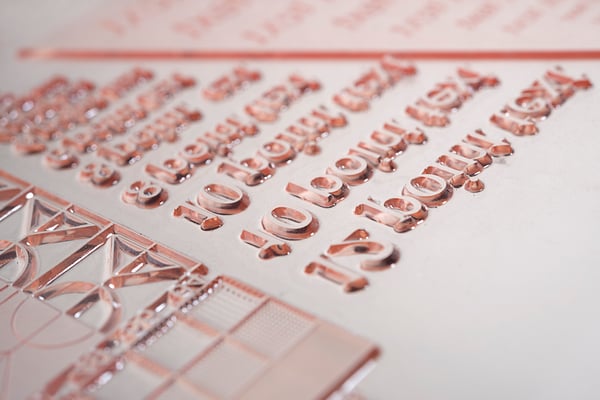 Looking to stop the excess costs from issues like plate lift, mounting problems, or ink incompatibility when printing? Try an elastomer blend sleeve for your flexographic printing needs.
Blends of elastomer, which can include both natural or synthetic polymers, are used in flexo printing because they are
High quality

Long running

Easier to interchange

Faster to clean

Reduce waste
Elastomer sleeves eliminate a variety of problems associated with plates, such as lift, registration issues, and poor ink transfer. They are ideal in applications where a thousandth of an inch is the difference between success and failure.
Better sleeves means better prints, which equals continued sales -- and more revenue.

4 Examples of Elastomer Blends
Here are four examples of elastomer blends -- available in varied durometers and surface tensions -- and their effective flexographic printing uses:
Natural and natural blends -- for water-based inks. Durometers from 35 to 75 shore A. Surface tensions from 19.6 to 33.9 dynes

EPDM and EP blends -- for solvent-based and UV inks. Durometers from 40 to 90 shore A. Surface tensions from 20 to 34.9 dynes

Nitrile and nitrile blends -- for oil based inks and abrasive substrates. Durometers from 50 to 90 shore A. Surface tensions from 25.1 to 33.8 dynes

Silicone and silicone blends -- for high temperature and adhesive applications. Durometers from 67 to 90 shore A. Material as high as 35 shore D are available for light embossing


How Do Elastomer Blends Improve Printing Performance?
Elastomer blends are used to produce products with a variety of enhanced characteristics that are significant in printing. These can include things like:
Resistance to wear, heat, or chemical action

Having specific surface tensions and hardnesses
These characteristics are obtained by careful choice, and mixing of several different components that make up the final composite material. These include:
Polymers

Fillers

Additives

Curatives
The choice of all of these components, along with precisely controlled vulcanization (heat and pressure treating) determine the final characteristics of the material. These can be selected to produce a sleeve with various features such as highest quality imaging, unmatched longevity, and superior ink transfer.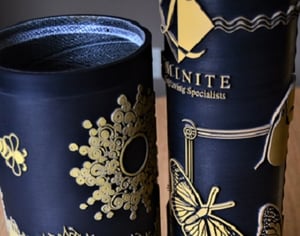 Laser engraving of elastomer printing plates and cylinders has been a popular industry practice since it was first introduced to the United States, by Luminite Products in the 1970s. At the time, the quality and longevity of elastomer sleeves made them an attractive alternative to plates mounted directly on cylinders, which were inconvenient to change out and often short-lived
Advances in both elastomer and laser technology have since kept laser-engraved image carriers at the forefront of quality and efficiency in printing.
Elastomer blend flexo print sleeves:
Enhance both

efficiency and productivity

Can be run alone or in combination with other types of plates

Reduce press downtime.
When combined with air assist mounting sleeves they allow for almost continuous press operation for maximum ongoing profitability.


Reducing Your Footprint With Elastomer Blend Sleeves
We've talked about the technical side of elastomer blend sleeves and how they can improve both your print quality and your efficiency, but another benefit just as important is their environmental-friendliness.
Elastomer sleeves, are two to three times more durable than photopolymer plates, and often exhibit a resistance to harsh chemicals. This means by using one elastomer sleeve, you're effectively reducing the waste from three photopolymer plates. That's a big difference.
Plus, elastomer blend sleeves are easier to store and care for, and do not require the use of as many harmful chemicals as other flexo printing methods.


Elastomer Blend Product Options
When it comes to sleeves, cylinders, and plates, material choices directly impact the quality of your flexographic print jobs.
Elastomer blends allow you a wide array of options for your printing needs, including:
Abrasion resistant materials

Heat resistant materials

Wide range of durometers

Multiple repeats on the same base

Optimum transfer of any ink

And more
Are you experiencing printing defects or having problems with your presses? Maybe it's more than just your image carrier. Check out our free guide to diagnosing your printing problems!
Editor's Note: This article was originally published in May 2017 and has recently been updated.