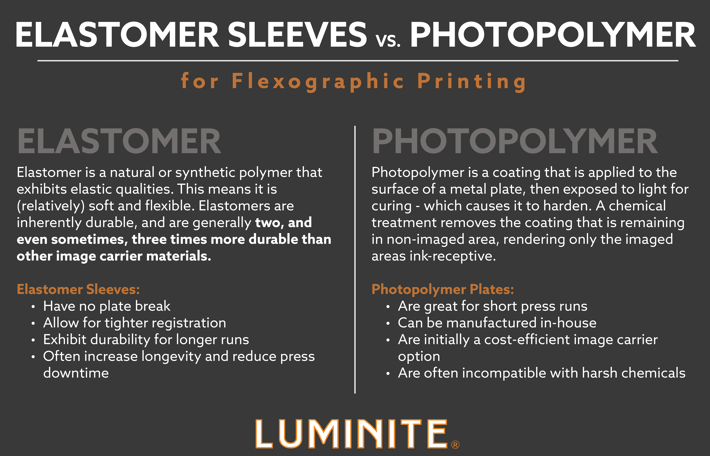 When thinking about the various components involved in making a final flexo printed product, one of the most important elements to thoroughly consider is your image carrier selection.
After all, when your image carrier is not optimized for your printing needs, you can quickly accrue negative consequences such as:
Print misregistration

Image carrier damage
You may be able to avoid these issues by working with your image carrier manufacturer.
Flexographic Printing Image Carrier Selection: Elastomer Sleeves vs Photopolymer Plates
One of the frequently asked questions in the flexo printing world is "What image carrier is best for me?" The truth is, there is no easy answer.
The best, or ideal, image carrier largely depends on a number of factors.
We've outlined the key considerations for choosing between two of the most popular image carriers, elastomer sleeves and photopolymer plates, to help explain the factors you should be considering.
It's important to keep in mind that there are other flexo image carriers to choose from. Including:
Elastomer covered standard print cylinders

Load-n-Lok Air Sleeve Technology

Elastomer plates

Photopolymer sleeves


Elastomer Sleeves for Flexographic Printing
Elastomer revolutionized flexographic printing by cutting down on waste and setup time as well as providing a sustainable printing practice for a growing flexible packaging printing industry.
But, let's start at the beginning:
What is Elastomer?
Elastomer is a natural or synthetic polymer that exhibits elastic qualities. This means it is (relatively) soft and flexible.
Elastomers are inherently durable, and are generally two, and even sometimes, three times more durable than other image carrier materials. Various elastomer compounds may also exhibit a superior resistance to harsh chemicals.
Due to the fact that elastomer sleeves have no sticky back, printers do not have to worry about the adhesive melting and their image carrier slipping around during printing due to harsh, solvent-based inks. Additionally, various elastomer sleeves are not prone to swelling when used with solvent based inks -- unlike photopolymer materials.


Elastomer Sleeves & Flexo Printing
In addition to their durability and chemical resistance, elastomer sleeves have many other areas where they produce superior results during the flexo printing process.
Elastomer sleeves are engraved in-the-round (ITR). This means that they are 100% distortion free. They are the continuous print solution, and often utilized for backgrounds and longer press runs.
Elastomer sleeves:
Have no plate break

Allow for tighter registration

Exhibit durability for longer runs
Even though elastomer may be a more expensive option and is often associated with longer lead times from the image carrier manufacturer -- in the long run, these sleeves can be the most cost-effective option due to their longevity and reduction of press downtime.


Photopolymer Plates for Flexographic Printing
Photopolymer as a material was first discovered in the 1950s, but it wasn't developed into printing plates until the late 1960s. Since then, photopolymer plates have become a popular image carrier for letter presses as well as packaging printing.
Well, maybe we're getting a head of ourselves here; you might be asking, "What exactly is photopolymer?"


What is Photopolymer?
Photopolymer is a resin that changes properties when exposed to light. It's a coating that is applied to the surface of a metal plate, then exposed to light for curing -- which causes it to harden.
It is imaged by the coating hardening in imaged areas, and remaining soluble in non-image areas. After it has been cured, a chemical treatment removes the coating that is remaining in non-imaged areas, rendering only the imaged areas ink receptive.


Photopolymer Plates & Flexo Printing
Photopolymer plates are popular for applications in which continuous printing is not required for the final product. These plates are also known to yield less dot gain while printing.
Higher line screens, such as 175 and up, are achievable with photopolymer plates.
Additionally, photopolymer plates:
Are great for short press runs

Can be manufactured in-house

Are initially a cost-efficient image carrier option
While these considerations can make photopolymer plates look attractive, it's important to note that harsh chemicals are often incompatible with these plates -- as they can cause the photopolymer to swell, and attack the sticky back.
Historically, plates often take longer to mount and register in-press than In-The-Round (ITR) continuous print sleeves.


So, Which Image Carrier Is Best for You?
Now that you know a bit more about the differences between elastomer sleeves and photopolymer plates for flexo printing, do you have a better idea of what printing method will work for you?
Well, there are a lot more ways to obtain that high-quality print we're all looking for. Take a peek at our free Flexo vs. Other Printing Methods ebook.
While this guide can be a great reference when considering an image carrier, it's crucial to discuss your unique printing process and materials with your image carrier partner.
Editor's Note: This blog was originally published February 2019 and has since been updated.