Surface tension is one of two key factors in proper substrate wetting, the other factor being surface energy. Tension is what causes liquids moving to form into a spherical shape, as if they are surround by an elastic membrane under tension. The molecules want to stick to each other instead of breaking apart in the air. It can also keep small particles from sinking into liquids. In flexo printing, surface tension has implications regarding ink coating properly on the substrate. Fortunately, surface tension can be measured using surface tension test ink.

This makes sure the surface is ready for printing and provides quality assurance controls during printing.


How Does Surface Tension Test Ink Work?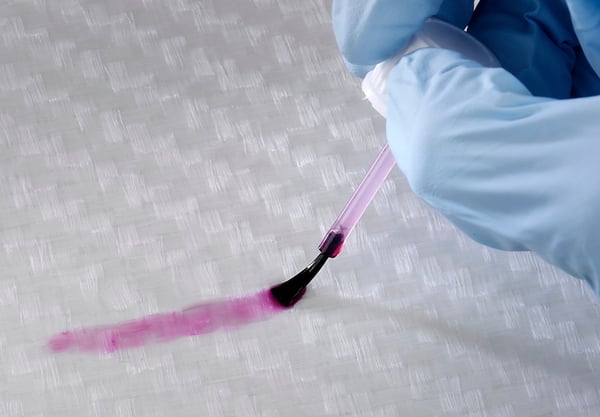 (Image courtesy PlasmaTreat)
Since the objective of the ink test is to determine surface wettability, test inks come in various surface tensions.
After pretreatment, a brush is used to quickly apply a high tension test ink to the surface. If the brush stroke edges remain stable for 2 seconds, that surface is considered to be wettable.
If the ink appears more in drop form than even strokes, the tester moves on to the next lower level of test ink until the tension of the surface is at least equal to that of the test ink.


Which Inks Are Used as Surface Tension Test Ink?
Depending on the surface being tested, several types of ink may be used:
Ethanol Test Inks

: These are suitable for most common surfaces.

Formamide Test Inks:

These work on warmer surfaces but are not appropriate for PVC. Extra care is required, as these inks are toxic and require a longer reading time to discern results properly.

Methanol Test Inks: Again, these will work with most common surfaces, but these inks are also toxic, so great care is a must.

As a press operator, you may not want to invest in new test inks -- and you might not have to! To make it easier, you could follow the same procedure as noted above, but use your own press-ready ink.


The Importance of Surface Tension in Flexographic Printing
The top priority in printing is to make sure the ink wets out on the substrate evenly. Due to the increased use of water-based inks and different types of substrate materials, more flexographic printers use this simple ink test to determine surface tension so they can adjust the treatment process accordingly.
Failure to incorporate these techniques can result in:
Lack of adhesion

Poor print quality

Production interruptions

Dissatisfied clients


Possible Limitations of Ink Testing
These measurements are relative values, and there may only be slightly perceptible differences from one surface tension to the next.
The test only measures the wettability of a specific sample of the substrate in a given environment at one certain point in time. The test materials must be exactly the same as that which will be used in the printing process. As the testing continues, the nature of the substrate itself might change in relation to environmental factors.
Any delay between testing and printing could result in different outcomes. Industry experience and a critical thought process are crucial to successfully using ink tests.
No Test is 100% Failproof

While no surface tension ink test is 100% failproof, sending your materials for out-of-house testing can yield more accurate results.
If you're experiencing printing defects linked to surface tension, give us a call and a member of our technical support team will walk you through your options.