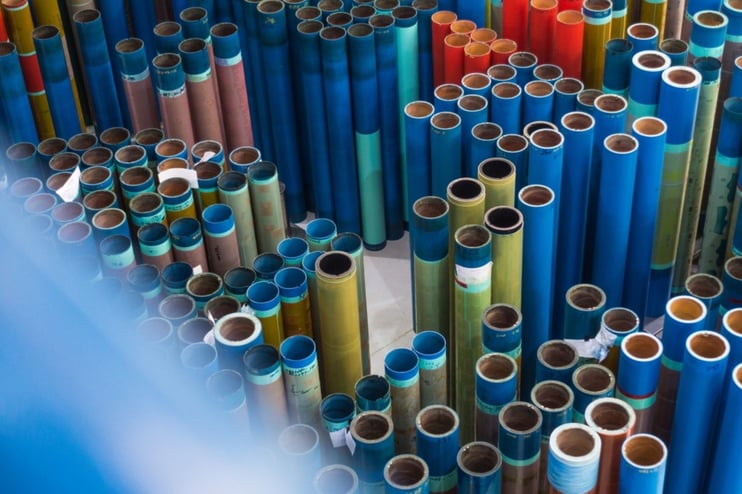 Project timelines are carefully set based on finances and company goals. However, your flexo print sleeve manufacturer might throw a wrench into project momentum if they outsource for either materials or tasks.
Don't lose money on inefficient partnerships: take this opportunity to recognize the benefits of working with a manufacturer that handles design and digital engraving in-house. Nothing streamlines a project and saves money like reducing the number of those involved in its production and keeping things close to home.
4 Benefits of a Flexo Print Sleeve Manufacturer with In-House Processes
Unforeseen issues related to your production can mean money lost and unhappy customers. And that's not to mention any internal disappointment or friction.
Outsourcing work to another shop or using overseas materials leads to unexpected issues. Manufacturers who operate this way can't always predict when delays will occur - or when they will resolve.
Suppose your flexo print sleeve manufacturer has elements of its production that are completed by another entity or rely on those outside the US. In that case, there are multiple reasons to think about negotiating a new partnership:
Material availability in the US
Inventory on hand of most common sleeves
On-site testing
Experience with color management
1. Material Availability in the US
Discuss potential materials used for your order and their availability in the US. The advantage of a relationship with a flexo print sleeve manufacturer - particularly one with materials on hand - is time saved.
If the materials have to travel from overseas, an extended wait time for materials means delays to your client. Remember, if the shipping channels are reporting delays, that time directly impacts your project and delivery times as well.
While current predictions see things looking up in 2023 in terms of shipping timelines, there is no guarantee. The best use of time and planning is to create a stronger relationship with a manufacturer who values on-shore material availability as you do.
2. Inventory on Hand of Most Common Sleeves
Similar to the material choice above, a discussion should be held on their inventory and what they keep stocked – particularly the most commonly needed materials and sleeves.
A healthy inventory of varied materials means the best fit for your project is already in stock.
---
Note: Why Choose Elastomer?
Elastomer is durable and can withstand wear and tear. This rubber polymer is reliable when it comes to keeping the press running, as it can last anywhere from 3-5x longer than a comparable polymer plate.
The elastomer can withstand abrasion better and offers easy cleanup and storage, as well as reliability when you want to improve print quality and have consistently clear impressions.
For more information on polymers or engraving, visit the Luminite FAQ page.
---
3. Testing and Experienced Support
Testing is another advantage of working with the right flexo print sleeve manufacturer. In addition to standard proofing, we have the option to perform surface energy testing on both substrate and inks to ensure proper ink transfer.
Once the sleeve is received, the printing facility can lean on the years of knowledge that the sleeve manufacturer employees typically have, which can mean a more streamlined approach to identifying and resolving any print defects that occur.
Interested in more info? Check out these resources on testing methods:
Flexo Surface Tension, Surface Energy, and Wettability
Surface Tension Test Ink Makes Measuring Wettability Easy
4. Experienced with Color Management
Troubleshooting issues with print quality during the print process can be challenging due to the number of potential factors that can go wrong, including the presence of an irregular surface or slow drying speed. Those experienced with both color management and ink quality can help reduce these issues.
Having professionals who know how to navigate issues that occur in flexo printing is one more way to reduce wasted time.
Restructure Your Relationship with a Flexo Print Sleeve Manufacturer
Time loss and shipping delay are both hangups to be avoided. When working with the right flexo print sleeve manufacturer, this strategy can win new contracts and keep production lines running.
Start the Conversation Today
Luminite staff can help you determine the best flexo printing process step-by-step for your printing needs. Discuss a new partnership by reaching out today, or check out further resources in the Flexo 101 Hub: