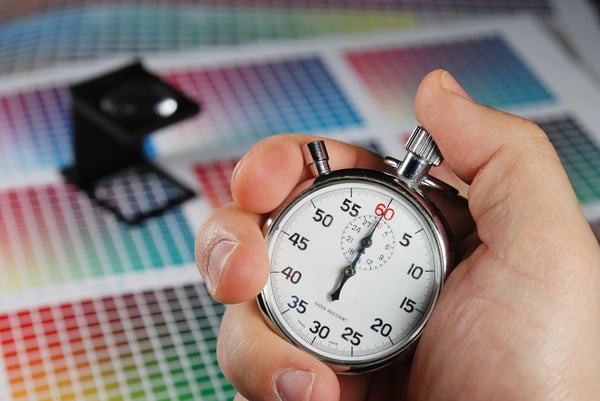 You already know how important operational efficiency is, especially when it comes to optimizing your high-speed flexo press. The faster you can print, the more orders you can fulfill and the faster your customers can get their products on store shelves.
Fast time to market is important in any industry, but how can you achieve these fast speeds? How do you take your flexo packaging printing speeds to the next level without sacrificing quality? Here's a closer look at some ways to increase the feet per minute that you're able to print and ultimately add to your profits.


Increasing Flexo Packaging Printing Speed
As you know, when it comes to printing, a lot hinges on the efficiency of your equipment. Keeping your flexo press clean and oiled up can help get those rollers spinning faster. But there are a few other technical areas you can improve to get more out of your flexo printing operation.
Things to consider when looking to increase your printing speeds:
Anilox roller alignment
Substrate surface tension
Image carriers: sleeves, cylinders, or plates
Drying times and ink types
Pressroom conditions
Let's get into it, and we'll make this speedy!


1. Anilox Roller Adjustments
You need quality anilox rollers for high speed commercial printers, period. But the rollers you're working with in the press itself can have a significant impact on how fast you're able to print.
It's important to ensure you're selecting the right type of roll for the printing work you're performing. If you're printing with a lot of ink, you'll do best with a low-line roll.
If high definition is what you're striving for, a high-line roll is best. Make sure you know which roll works best with the speeds you're printing at and the type of print you're looking to achieve.


2. Substrate Surface Tension
Sometimes it's the smallest adjustments that have the most significant impact on your packaging printing process. Take substrate surface tension, for example. When you increase surface tension, you accelerate drying times.
You'll just need to make sure you can increase the surface tension without sacrificing print quality. It can be a bit of a balancing act, but if you get it right, you'll be glad you put in the effort. The productivity gains can be significant.
ICYMI: We have a full guide here about flexo surface tension, energy, and wettability for more info.


3. Printing Sleeves
Elastomer sleeves, leveraging direct laser engraving technology, can help improve flexo printing speeds simply because these components can be quickly made, meaning that printing can start sooner.
Compared to conventional sleeve-making methods, which can have up to seven different stages before the sleeve even hits the printing press, a laser-engraved sleeve consists of only two steps. A laser engraved plate, similarly, consists of just three steps.
Not only are elastomer sleeves the quickest image carrier to make, they also last far longer than other conventional methods. You can run your presses longer, increasing your output significantly to meet your time-to-market goals.


4. Assess Your Pressroom Conditions
Sometimes a faster, more efficient print job doesn't have anything to do with the machine you're using. Sometimes, it's all about optimizing your pressroom conditions to accelerate drying times and efficiency.
For instance, if you're working with water-based flexo ink, you'll want to monitor the humidity in the pressroom. You'll also want to check that temperatures are right for better drying times. And make sure to set up the pressroom with proper ventilation and equipment to capture VOCs (volatile organic compounds). Safety first!


5. Don't Forget About Drying Times and Ink Types
Generally speaking, the higher the flexo press speed, the slower drying times need to be for a quality print job. However, this can be largely offset by working with an ink that can print at fast speeds while still maintaining overall form and stability.
Keep in mind what kind of ink you're using and the customary drying times needed for said ink. Don't rush to package a product and smear it because the ink wasn't dry.


Get Those Numbers Up
While all of these tips and tricks can greatly improve your flexo printing speeds, do you know what won't? Pesky printing defects.
They're bound to happen -- every printer has woken up in a cold sweat thinking about misregistration or feathering.
But with this comprehensive guide to the most common flexo printing defects, you can set your mind at ease. Know what to watch for and how to fix it, and you'll be able to set your machines to turbo mode and watch the prints fly off the press.